Get paid to print coupons?
Ok, this isn't going to make you a millionaire but wouldn't it be great to get money for printing and using coupons that you're already printing and using anyway?
I already consider coupons themselves as free money so to get more money on top of that just to print and use those same coupons is a bonus.
Do you want to save money on printing? Check out my article on how to print free for life!
HOW TO GET PAID TO PRINT AND USE COUPONS
All of these programs are free to join and also give you a bonus just for signing up! So keep reading and consider signing up for more than one of them.
Swagbucks
Swagbucks is a free rewards program that gives you free gift cards and cash for the everyday things you already do online (like printing coupons).
Earn points or "Swagbucks (SB)" when you shop at your favorite retailers, watch entertaining videos, search the web, answer surveys, and when you print and use coupons!
Redeem points for gift cards to your favorite retailers like Amazon and Walmart or get cash back to your Paypal.
What Will Swagbucks Pay for Printing and Using Coupons?
You will earn 25 SB (Swagbucks) per coupon redeemed! Plus 1 SB for each coupon you print. A maximum of 50 coupon prints per day are eligible for Swagbucks.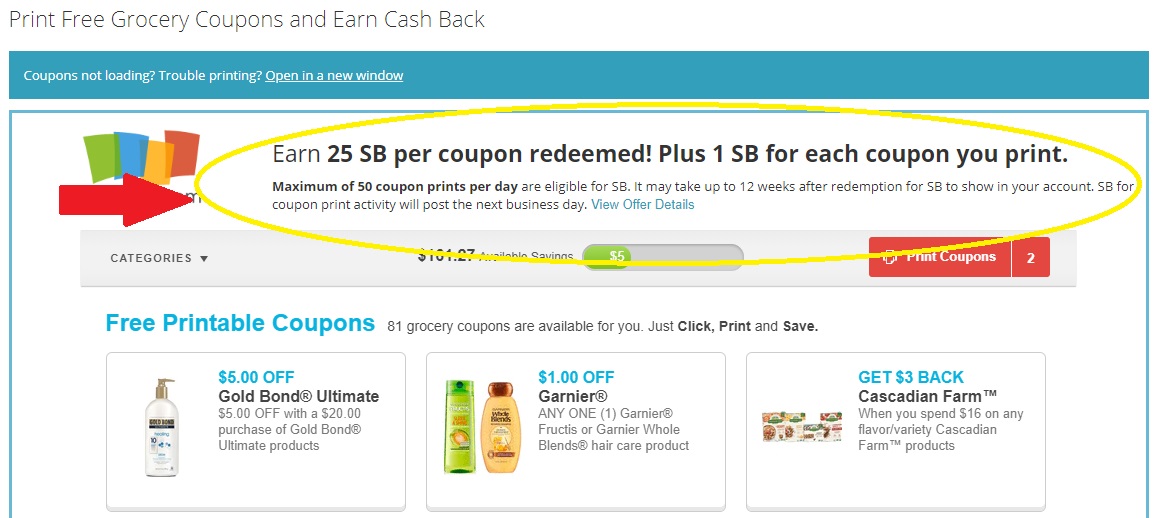 Grocery coupons can be found under the "Shop" category of the Swagbucks website.
Remember it's free to join and get a $5 Bonus Swagbucks using my link here.
ShopAtHome
ShopAtHome is a free rewards program where you can earn cash back by shopping at your favorite stores and by printing and using coupons.
Redeem your rewards by check, PayPal, or get free gift cards from Amazon and many others.
What Will ShopAtHome Pay for Printing and Using Coupons?
You can earn $0.10 Cash Back for each coupon you redeem at your local grocery store.
Plus earn $0.01 per coupon printed. Now obviously this is not a ton of money but it's extra money on top of the money you're already saving using coupons.
Sign up for free and get a $10 Bonus using my link here.
MyPoints
MyPoints is a free program that allows you to earn points when you shop online, take surveys, watch videos, read emails, and more.
You can redeem the points you earn for gift cards, travel miles, or cash via PayPal.
What Will MyPoints Pay for Printing and Using Coupons?
Earn 25 Points for each coupon you redeem at your local grocery store.
Plus earn 1 Point per coupon printed. A maximum of 500 coupon prints per month are eligible for Points but there is no limit on the 25 Points per redemption.
Hurry up and get signed up and get a $10 Welcome Bonus using my link here.
What do you think? Go ahead and get signed up for a couple of these or all of them and grab your bonuses! It takes a minute to get signed up and you'll be ready to start earning money and gift cards just for doing what you're already doing.
Questions? Comments? Leave them below in the comment section of this post.
YOU MAY ALSO BE INTERESTED IN:
This post may contain affiliate links. Read my disclosure policy here