This post may contain affiliate links, which means I'll receive a commission if you purchase through my links, at no extra cost to you. Read my full disclosure for more information.
HOW TO PRINT FREE FOR LIFE!
Want to know how I print free?
Are you spending too much money on ink like I was? Are you sick of buying ink and limiting the amount you print because you're afraid to run out?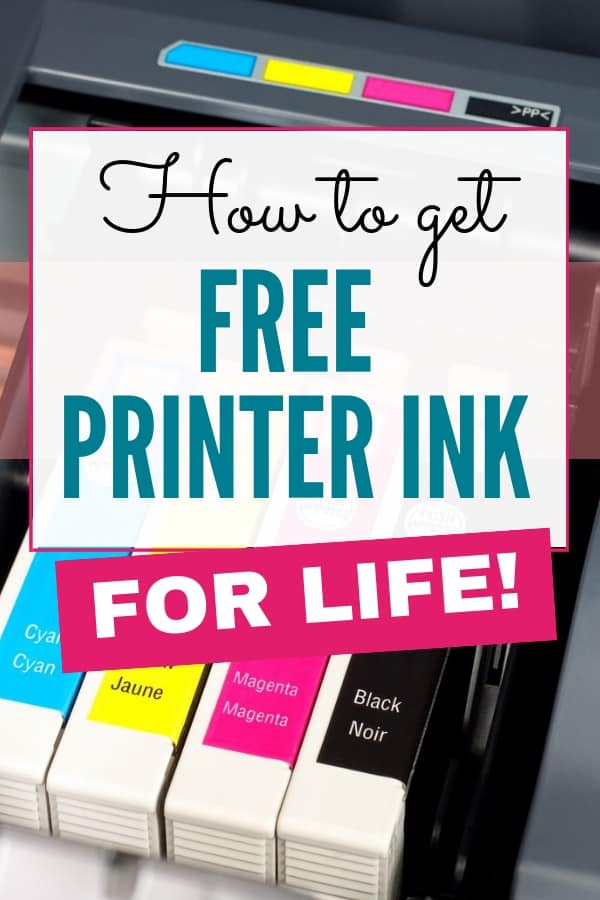 Or maybe you don't print that often and you don't want to spend money on ink that you will only need once in a while.
Whichever applies to you, I found the perfect solution.
I'm going to share with you how I get FREE printer ink shipped to my home for free! Yes, seriously it's free. FREE INK!
No more shaking those ink cartridges or forgetting to buy ink. So what's this solution?
The HP Instant Ink Program!
HP Instant Ink is a program developed by HP that takes care of all of your printer needs on a budget.
With the Instant Ink Program, your HP qualified printer will automatically send a signal to HP to tell them you need ink, and it will be delivered to your home for free before you run out. How cool is that?
Plus they will provide postage-paid shipping materials to return used cartridges; I love that since it was a pain to recycle my old ones.
Ok so this may sound too good to be true and you may be thinking is there a catch? Well, you do need to have an eligible HP printer (more on this later) and have it hooked up to your wifi network but that's it.
If you don't currently have an HP Eligible printer then you will see why it may be worth it to run out and buy one (I got mine for under $60).
Depending on how much you print there are plans that can fit your needs starting for FREE. I am going to show you how you can easily get a bunch of free months on ANY plan so that you can possibly print free for life!
I've been with the HP Instant Ink Program for a couple years and have not had to pay a monthly fee yet so keep reading.
Getting Free Ink With The HP Instant Ink Program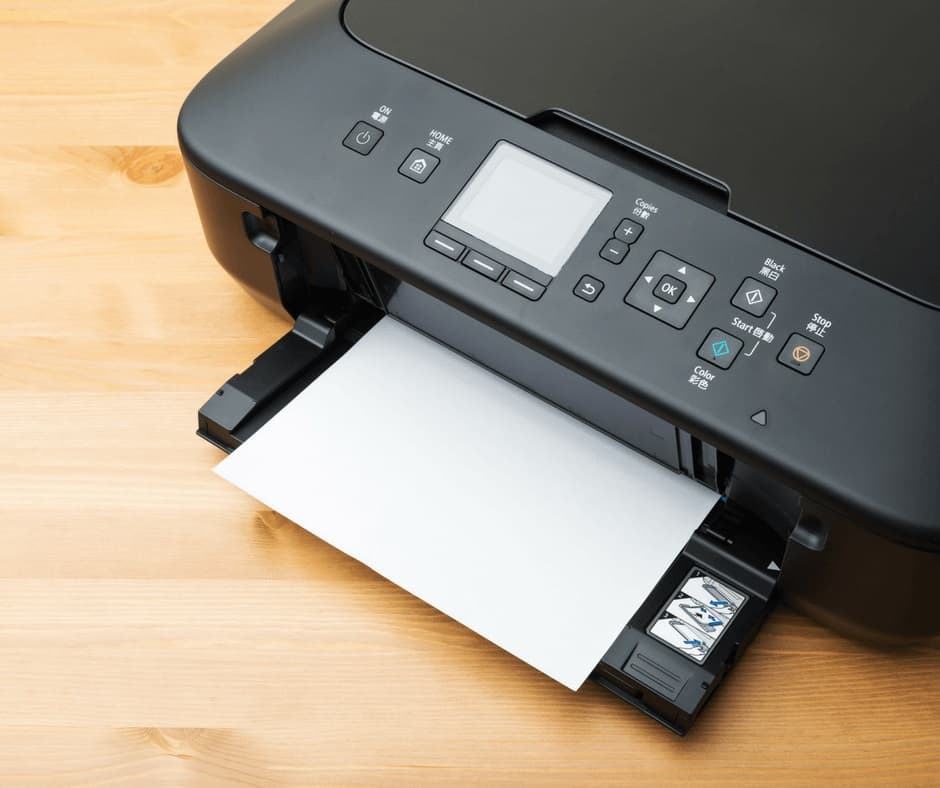 SOME MORE GREAT MONEY SAVING TIPS TO READ NEXT:
Most HP Printers are now Hp Instant Ink Eligible and that means you can get ink delivered free to your home before you run out and on autopilot!
As I mentioned above, the HP Instant Ink Program offers a FREE Ink Plan that allows you to print 15 pages a month at no cost to you.
UPDATE 2021: HP has started charging a small fee of .99 cents for the 15-page plan but keep on reading and I'll show you how you can still print for free!
I love that they offer this for those of us who hardly print and may just need to print a few things a month. With the free plan, if you print less than 15 pages a month you now already have free ink for life! Simple right?
Ok so what if you print more than 15 pages per month?
Don't worry I will show you how I was able to get free ink for years and I can print up to 300 pages per month. Plus I get rollover pages so I never go over my page limit.
Once you see how easy it is to get free ink then you're going to want to run out and buy an HP printer asap and they are very inexpensive. I probably bought the cheapest one they had that worked for this purpose (I'll share with you how to buy the right one and which one I have).
If you already have an HP Eligible printer then you just need to sign up!
Ok so here it is….
Steps on How to Print for Free
1. Have or Get an HP Instant Ink Eligible Printer
First, you have to have an HP Instant Ink Eligible Printer. Amazon has a great selection you can check here. You can easily tell in the product description of a printer whether it's eligible. You can also find a list of eligible printers on the signup page. I have the HP ENVY 4500 Series All in One Printer.  As you can see by the screenshot Amazon clearly displays in the titles that the printers are Instant Ink Eligible. 
Please note: When purchasing your printer in-store or online do not purchase the HP Instant Ink subscription with it (unless they have a 3 free months promotion going on). You will subscribe after you get home with these instructions.
2. Pick a Plan.
Pick the best plan for your needs! Remember you are not going to be charged until free months run out. Plans start as low as $0.99/month depending on how much you print. I recommend choosing one of the higher plans since you're getting free months, you can always lower it later. You can also cancel the service at any time if you don't like it.
3. Enter HP Instant Ink Promo Codes. MOST IMPORTANT STEP!
This is the step that will allow you to be able to print for free for months no matter which plan you choose so read thoroughly. To start, you'll want to use a referral code or link to sign up which will give you 1 FREE Month of Hp Instant Ink. Use code sFrbn or just click this referral link here and it will add the first free month.
THEN you will enter HP Instant Ink promo codes to get additional free months during registration. This is where you want to get as many free months now as possible.
If you just bought your printer it should have come with a promotion code in the box to use to get 3 months free when you first sign up. Make sure you go through a referral link or code FIRST to get the 1 free month I mentioned above and then use the promo code you were given to get the additional 3 months for a total of 4 months! Plus try and add the additional codes mentioned next and you can get even more free months!
If you don't have a promo code with your printer because it's one you had already then you can try to stack some of the following HP Instant Ink promotion codes (codes may expire at any time so try them all).
HP INSTANT INK PROMO CODES TO TRY:
EASYWAYTOPRINT
HPFOREVER
HP4FREE
FREEINK (Seems to work for most people)
INSINK2
LOVEINK4U
2HP4U
INSTANT2
HPINSTAINK4U
3FREEINK
SAVE50NO
SAVE50PERCENT
SCHOOL2
Some of the codes will combine so just make sure they are in ALL CAPS and enter one after the other. Codes change often so I will try and keep this post updated.
IMPORTANT! Before you checkout, make sure you see the one month free from refer-a-friend and other months free from the promo codes you entered and that your total is $0 before submitting the order. Usually, with the combination of promo codes, you can start off with between 4 and 6 months of free ink.
Leave me a comment on this article if the codes are not working for you so I can try and get a new one or if you need help.
4. Share your referral link and codes with friends and family!
This will be what gets you the most free months! You have 4 to 6 months to refer a few friends to keep your free plan going. This should be easy considering the HP Instant Ink program is super affordable and very convenient even after the free plan ends.
To help you I am allowing you to post your referral code in the comments of this post!!
So post your codes and let's help each other save money! Send your friend your code and send them this article so that they can get the most free months as well!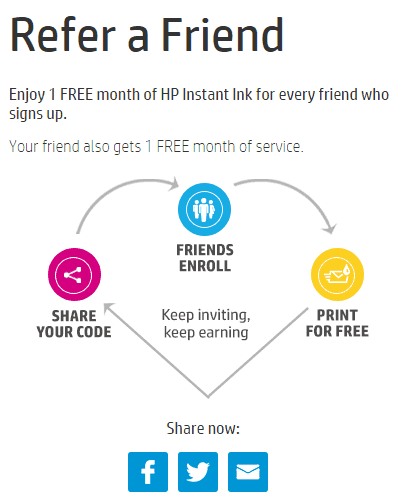 If you like your printer, and it doesn't qualify for the program, but you just want to know how you can save money on ink, check out 10 Ways to Save Printer Ink.
Questions? Comments? Leave them below and I will answer them. Thank you for visiting Esavingsblog, if this post helped you, please share it with your friends using the sharing buttons above and below this post.
*The 3 month Hp Instant Ink coupon codes expire every few months so grab it while you can, I will update the coupon code as new ones come along. Please leave a comment if the code does not work and I will try and find a new one. Try all of the codes mentioned first.
WANT TO SAVE EVEN MORE MONEY? Come over and join my free private Facebook Group where I will share more money-saving tips and hacks and give you the opportunity to share your ink codes even more! Click here to join!
MISSED ANY PART OF THE FREE STUFF SERIES? CHECK IT OUT BELOW.
Need help with saving money in other areas? Sign up for my email list below and gain exclusive access to money-saving tips, promotions, and freebies.
This post may contain affiliate links. Read my disclosure policy here