THE BEST COUPON APPS
Are you utilizing coupon apps?
I love coupons, but there are some weeks where I don't have any time to organize and clip paper coupons before I go shopping.
Because I hate to pay full price for anything, I needed an easy way to save money that didn't take me a lot of time or effort. That's when I started to discover coupon apps.
Once I discovered that I could use my smartphone to save money I was hooked. I started looking for the best of the best coupon apps and seeing which ones I liked.
I was sharing my favorites with my friends, and they loved them too, and we were all on our way to saving hundreds of dollars a month on the items we buy daily. I compiled a list of my favorite coupon apps to share with you below.
So if you have been looking for an easy way to save some extra cash, then coupon apps are the way to go. We use our smartphones for everything else so why not to save money? Hey, you may even save enough in one month to cover the cost of your phone bill!
You can use coupon apps to get rebates, cashback, digital coupons, and printable coupons for products you are buying daily. I could go on and on but I know you are busy so below is a list of my favorites.
Top 10 Coupon & Money Saving Apps
Ibotta is a free app that pays you cash for everyday purchases. Ibotta has exclusive rebates at your favorite grocery stores, retailers, and online shops. They also offer bonuses!
Get a $10 Welcome Bonus when you use my referral link here.
The RetailMeNot Coupon app makes it easy to save in-store with thousands of coupons at the places you love to shop. Pull it up when you're at the store or when shopping online to see if there are any coupons available.
Fetch is becoming one of my favorite new apps. You can check out my full Fetch Rewards review but basically, it turns your grocery receipts into rewards. And all you do is scan your grocery receipts every time you shop!
BONUS: Use My Referral Code: ESAVINGS, during signup and you'll get 2,000 Fetch Points ($2.00 in points!) when you complete one receipt.
Shopkick gives you points (or kicks) for visiting stores, browsing and scanning products, and making purchases. I love being able to walk around the mall and collect points just for walking into a store.
Check them out here to sign up or check out my Shopkick review.
Makeena is a FREE app that pays you cash and rewards for buying products that are good for you and the planet. It's super simple to use and takes just minutes to save.
Download Makeena using my referral link here and get a $1 bonus. Or download it right from the app store and enter code: PWQEXO during signup to get your bonus.
Every Thursday morning, Checkout 51 updates with a new list of offers. All you have to do is pick the ones you like, purchase them at any store, and upload a photo of your receipt through their mobile app or website. When your account reaches $20, they send you a check.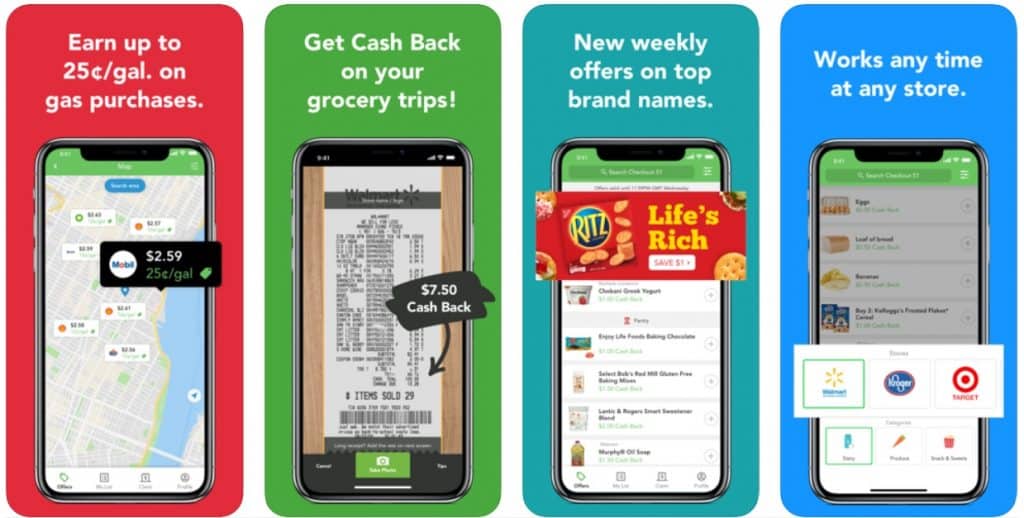 Cartwheel is exclusive to Target. Unlock different offers and use your offers again and again. You can even pile them on top of other coupons, sales, and your debit or credit REDcard savings!
UPDATE: I heard Target will be getting rid of this app :(. Supposedly there will be coupons in the Target app that can be used.
MORE MONEY SAVING ARTICLES YOU WILL LOVE:
MobiSave is a free app that turns your grocery receipts into cash! Stop clipping your coupons and get cash back simply with MobiSave. MobiSave's exclusive rebates are valid at all stores, there are no inactivity fees or minimums to be paid.
Print coupons from your smartphone or tablet and now you can link up your loyalty cards and submit your receipt for cash back for stores like Walmart that don't have a loyalty card. Available for Android & iOS.
This is a newer app that I am enjoying using because it allows me to double dip with other cashback apps. With Fluz you're basically buying gift cards for the exact amount of your purchase and getting cashback for doing it.
Plus when you use Fluz referral code: ESAVINGSBLOG you can get 3 Free Vouchers for up to 35% off Gift Cards.
Go ahead and sign up here.
UPDATE 2020: This app seems to be no longer available, I will update this page with a new one soon!
Shopmium has great rebates on some of the best brands! Plus right now if you signup using my referral code: HFEAACPH you will get a free offer for a Lindt Chocolate bar!
Cashing out is automatic on Shopmium hence there is no cash-out option. Rebate payments are sent directly to your PayPal or bank account 24 hours after your rebate has been approved so no minimum! Love that 🙂
Hope you enjoyed my Top 10 Coupon Apps List! Download them all to your phone and have the savings at your fingertips. Share any of your favorites.
This post may contain affiliate links. Read my disclosure policy here