This post may contain affiliate links, which means I'll receive a commission if you purchase through my links, at no extra cost to you. Read my full disclosure for more information.
MAKE MONEY FROM YOUR PHONE
Have you ever thought about how great it would be to make money from your phone?
Most of us have our phone with us all the time so why not figure out a way to make money off of it?
Well, I have found a few ways to earn money from your smartphone!
There are many apps out there that allow you to make money with your phone.
We pay a lot of money each month just to use our phone, why not make money off of it? You can even make enough money to cover your phone bill if you utilize your phone wisely.
Instead of wasting time playing games that don't pay you, try these apps that will make you money from your smartphone.
HOW TO MAKE MONEY FROM YOUR SMARTPHONE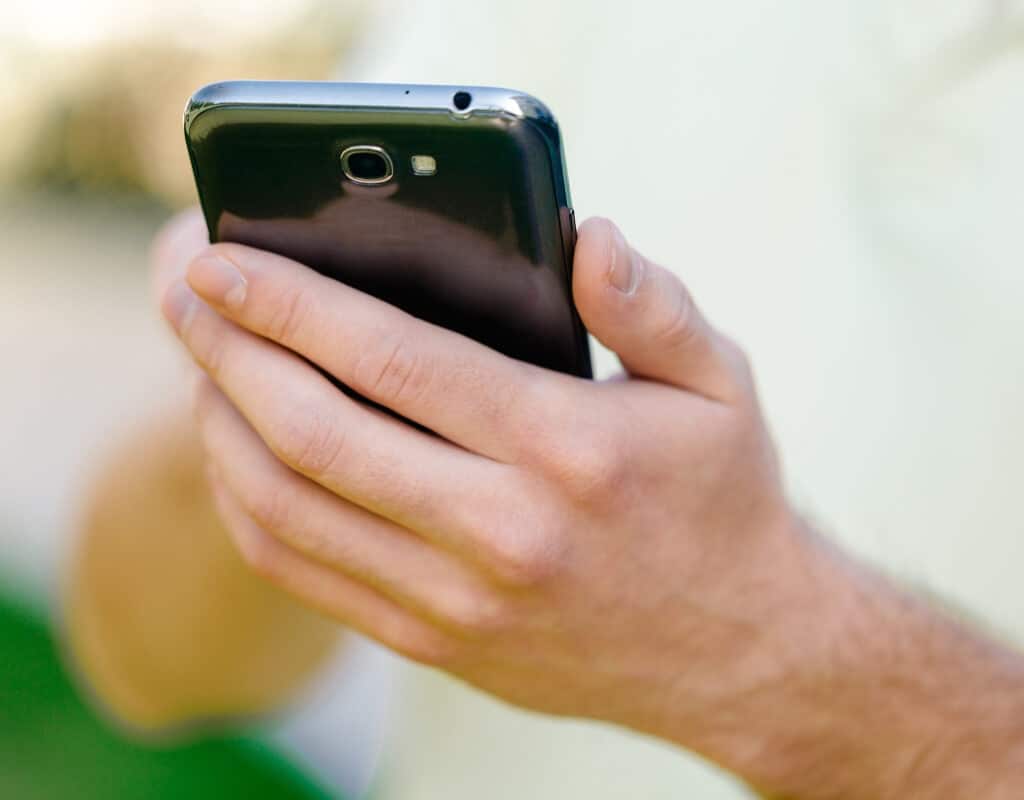 GET PAID TO WALK INTO STORES AND SCAN STUFF
Shopkick is a free app that rewards you simply for walking into stores (love this part) and for doing other activities like scanning certain products while you're in the store.
When you open the app it will tell you which products to look for and scan. You will get points for scanning each item. It's actually kind of fun like a treasure hunt.
It's a great app to use while walking around the mall! You will see easily in the app which stores that pay you for "walk-in's" and which have items to scan.
When you get enough points you can exchange them for Amazon gift cards and more!
Sign up for Shopkick and start earning today.
GET PAID TO WATCH VIDEOS AND PLAY GAMES
Swagbucks will pay you for watching entertaining videos, searching the web, answering surveys, and more. Redeem your points for free gift cards or get cash back from PayPal.
You can also earn a 300 Swagbuck bonus by using my referral link! Once you signup you will get your own referral link so you can refer friends and get more points!
Sign up for Swagbucks.
GET PAID TO FIND HELP WANTED SIGNS
Job Spotter is an app that allows you to take and submit photos of help wanted signs and get rewards that you can turn into gift cards (which are basically free money). So when you're out and about and you see a help wanted sign just get into the habit of snapping a pic.
Jobspotter.indeed.com
GET PAID TO SCAN YOUR RECEIPTS
Fetch Rewards makes it easy to save on your everyday grocery purchases.N o store limitations, no having to clip special offers, no worrying about missing out on savings. All you need to do is snap a picture of your receipt and points will be put into your account.
Fetch Rewards works for ANY grocery receipt. Just take a picture of your receipt each time you purchase groceries and you'll earn points. Accumulate points and redeem them for free rewards to hundreds of popular retailers.
Want 2000 points to start (you only need 3000 for your first gift card) then use my referral code: ESAVINGS when you sign up here.
Check out my review of Fetch Rewards.
I talk about Ibotta all the time but in case you haven't heard of them, Ibotta is a free grocery savings app. You can get cashback on your purchases of certain products and brands.
They have a ton of brands so it won't be hard to earn quickly. They even have "any brand" rebates so you can earn with generics as well.
Get a $10 bonus when you sign up using my link here.
GET PAID TO SHOP
Rakuten is one of the most popular cashback sites and they have an app to make getting cashback even easier! A lot of us already shop on our phones so why not get cash back while doing it? Sign up for Rakuten here and get a signup bonus!
Once you're signed up, go ahead and download the app so you can make money when you shop from your phone!
Topcashback is similar to Ebates. I would suggest signing up for both and having both apps on your phone so you can compare cashback amounts before you shop.
Sign up for Topcashback here and then download the app.

You may also like:
Simple Tips to Save Money on Gas
GET PAID FOR YOUR STUFF
Poshmark (use code: ESAVINGSBLOG and get a $5 Credit! when you sign up) is by far my favorite app to sell your clothing, accessories, makeup, etc. I've sold a bunch of items already (check out my Poshmark review).
If you have clothes you've never worn or hardly ever wear, sell them right from your phone! I had clothes with the tags still on them and a whole bunch of clothes I only wore a few times and listed them up.
You just take a picture and do everything right from your phone. It's super simple and Poshmark takes care of everything! You just print the label and drop your items in the mailbox. Check out all my tips for selling on Poshmark including how to get free boxes and how to package your items.
This is another app where you can sell stuff but locally. Sell old furniture, cars, almost anything! Obviously, you want to use caution and always speak to and check out whoever you're selling to before you meet them (and bring a friend) but it's a great way to get rid of items you no longer need and to make money.
GET PAID TO READ EMAILS
I joined InboxDollars back in 2015 and use them on and off.  Inboxdollars will pay you just for opening and reading their daily emails. They pay you for doing other things as well (taking surveys, watching videos, and more) but the easiest is just reading emails as it takes only seconds.
You can check out InboxDollars here.
Do you have any favorite ways to earn money from your phone? Have you tried any of these? Let me know in the comments!
This post may contain affiliate links. Read my disclosure policy here