This post may contain affiliate links, which means I'll receive a commission if you purchase through my links, at no extra cost to you. Read my full disclosure for more information.
Fun and Educational Apps for Kids
Kids are learning in a whole different way now from when I was young. Toddlers and Preschoolers are utilizing iPads in the classroom now. Most kids can maneuver around my phone and iPad faster than I can!
It's amazing how far technology has come since I was in preschool (I am only in my 30's). Recently I was able to review some great kids apps thanks to Kids Academy. If you are looking for fun educational and affordable apps for preschoolers then the Kids Academy Co creates some awesome Apps for you. You can get the free versions to check them out.
Most of the FREE educational apps have a few levels your child can play in before you get prompted to upgrade (which is not required). You can upgrade to different levels or do a full access pass for the full version. Check out a summary below of the three apps I was able to review.
Bingo ABCs alphabet phonics song with farm animals cards for toddler -Bring music and joy for the whole family with Bingo Song HD!
Cute interactions, a catchy tune, and simple lyrics of this sing along music book will entertain you and your kids. With a single app you can sing and record your singing in a Karaoke session, play mini games with farm animals cards, make up and record your own stories!
FEATURES
– Learn the popular kids song!
– Enjoy professional singing performance!
– Sing along with Karaoke Mode!
– Record your children singing!
– Touch and discover fun surprises in the captivating illustrations
– Play games with farm animals cards!
– Make up fun animal stories and have them recorded!
– Enjoy a lively energetic app!
Turn up the volume and let the family fun begin!
You can download the FREE version or unlock all the features for just $3.99.
Preschool and Kindergarten learning kids games–Based on the proven Montessori learning method, Kids Academy develops spelling, writing and reading skills through fascinating games!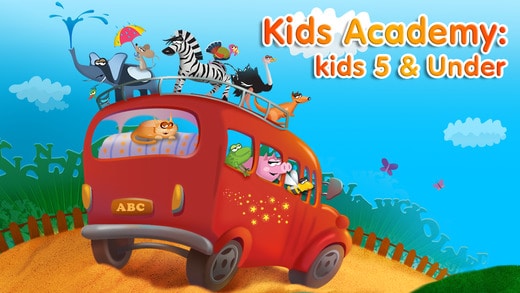 This app is created to make fun more educational! The app goes beyond simply great graphics and beautiful music by engaging children to learn preschool basics through intriguing game play. Toddlers will start with easy tracing by collecting fireflies in a jar and will move gradually to tracing requiring more developed fine-motor skills.
The basic skills in this app are foundations for reading, writing and arithmetic operations. Appropriate hints are provided to support your children as they practice and build their skills.
ABCs alphabet phonics & Montessori learn to read app for toddler–Learning to write has never been more fun! With Montessori Worksheets for Kids Free your kids will not only learn to write letters, but will also develop good handwriting skills! The app turns the learning process into what kids love the most – a game!
This one has many different in-app purchases/upgrade. You can download the ALL In One activity for $9.99.
Have you downloaded any of the Kids Academy Apps? Share your thought and Stories!
This post may contain affiliate links. Read my disclosure policy here