This post may contain affiliate links, which means I'll receive a commission if you purchase through my links, at no extra cost to you. Read my full disclosure for more information.
ZERO BASED BUDGETING FOR BEGINNERS
Have you been budgeting and you still wonder where your money is going each month?
The point of a budget is to tell your money what to do for you. Tell it where to go each time it comes in.
In order for this to work you want to have a "job" for every dollar that you make.
This is where zero-based budgeting comes in. A zero-based budget is basically a budget that once done correctly you have $0 leftover.
Wait? What?
Yes and don't worry that doesn't mean you won't have any fun money or money for unexpected things that may arise. It just means that you will account for all of that in your zero-based budget.
A budget is telling your money where to go instead of wondering where it went.

Dave Ramsey
How to Start Your Zero Based Budget
Start With Your Income
In order to do a budget, you need to know how much money your household brings in.
Write down all of your income that you expect for the month. If your income varies then go by the average of the last three months. To get your average, add up all of your income from the last three months and divide it by three.
Never overestimate your income! It is better to underestimate than overestimate when it comes to your budget. Obviously, you want to be as accurate as you can but don't stress and let income be the thing that stops you from budgeting.
List All of Your Expenses
For your first budget you may have to guess a few things but again don't let that stress you out. Budgeting takes a couple months to get right.
That DOESN'T mean just sit down and blindly guess what you spend in each area.
You actually want to sit down and go through your receipts, your bank statements, your credit card statements and more. Get the most accurate numbers you can for your first budget and then commit to start tracking your expenses from now on (don't worry I have an easy way for you to do this coming up).
Start with your basic necessities or what Dave Ramsey would call your "four walls". The four walls are food, utilities, shelter, and transportation.
Not familiar with Dave Ramsey? Check out Dave Ramsey's Baby Steps Explained to find out more.
Then write down all your expenses after that. Be sure to think about everything such as groceries, savings, rent, utilities, transportation, insurance, etc.
Don't forget your debt! You want to count any debt payments you make to credit cards or loans (besides the mortgage as that is part of your four walls and will have already been counted above) but keep these in a separate section of expenses.
Keeping debt separated will help you see how much of your hard-earned money is going towards debt each month and motivate you to pay it off faster (more on that later).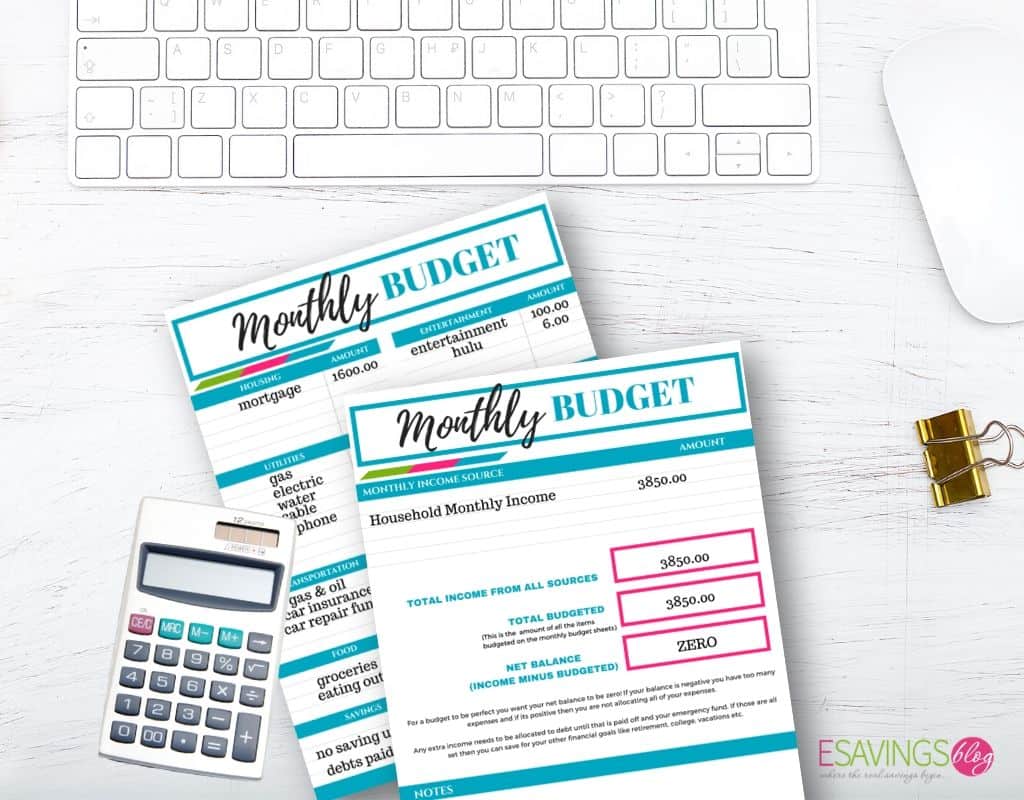 Subtract Your Expenses From Your Income
This is where the "zero" in zero-based budgeting comes in. Your income minus expenses must equal zero.
Add up all of your expenses from the last section and subtract the total from your income. What are you left with?
Hopefully, you have a positive balance but you may find you have a negative one. What do you do in both of these situations to bring your balance to zero? Let's go over both scenarios next.
ARE YOU SPENDING MORE THAN YOU MAKE?
What do you do when your expenses exceed your income? Well, this is where the next step of tracking your spending will really come into play. We will go over tracking your expenses in the next section but for now, just know that every penny must be accounted for.
If you're living above your means you will never get ahead. I share tons of ways to spend less, save money and make money on this blog that can help you with this issue.
I will list a few helpful articles here to get you started but before you jump to them, finish reading this and be sure to grab your free budget printables (sign up at the bottom of this page).
MONEY LEFT OVER?
What do you do with a positive balance? Well, that's the easiest one to deal with. First, you want to make sure you have accounted for everything in your budget.
Did you account for bills you pay quarterly? How about renewals of subscriptions etc.? If you have anything like that coming up then allocate that money to those expenses first. You don't want to be short one month just because you forgot about that sewer or tax bill.
Do you have an emergency fund? Once you have all your bills covered you need to plan for emergencies. Make sure you allocate money to an emergency fund until you get at least $1000 saved to start.
Once you have accounted for all of your bills (monthly, quarterly, yearly) and you have at least $1000 in an emergency fund, then you should put any extra cash towards paying down your debt!
Debt should be a priority when it comes to any extra money left after expenses. For every month you carry debt you're paying tons of interest. That $50 pair of shoes is now costing you twice as much.
Start tackling that debt by throwing as much money at it as possible. Whether you use the debt snowball or debt avalanche method is up to you but I want you to get debt out of your life.
No debt?
Then put that money towards savings. First, start with putting money towards a fully-funded emergency fund. That $1000 we talked about earlier was just a starter emergency fund until you paid off your debt.
A fully-funded emergency fund would be 3 to 6 months of expenses. Ideally, I'd recommend 6 months.
You can also start saving some money in what we call sinking funds for things like a new car, vacation or even a medical procedure.
The point of a sinking fund is to slowly sock away money for future expenses including our goals and dreams. You don't want to be taking money out of your emergency fund or going into debt to fund items like these.
You can even make it fun and use visuals to see how much progress you're making on your goals. Below are the ones I am using (available in my shop).
Start Tracking Your Expenses
Now that you have the basics covered and made your first zero-based budget you need to start tracking your expenses. You will want to track your expenses every day during the month to make sure you're sticking to your budget.
Don't worry this doesn't have to be hard. I use a free app called Everydollar to do this right on my phone.
I also then like to write it down in my expense tracker in my budget binder at night or at the end of the week when I review my budget.
A Budget is Permission to Spend.

-Rachel Cruze
TAKE ACTION!
Ok, it's great that you've read this blog post and now you know what a zero-based budget is BUT if you don't actually sit down and take action on what you've learned then this was all for nothing.
Zero-Based Budget Recap:
Create a starter zero-based budget using the instructions above. Grab my free budget printables (sign up below) to get you started!
Make a plan to either allocate the overage in your budget or to cut expenses to get to zero. Use the tips I gave you in this article to get started.
Don't give up! Budgeting takes time to work. It will usually take about three months to really get on a good budgeting rhythm.
That's it! Just get started.
The whole goal of this blog is to make saving money and budgeting EASY and even fun! I was anti-budget for so long. I often thought it was kind of silly to track everything when I can just look online and see my balance and all of my expenses.
But let me tell you that budgeting (or call it cash flow planning if you like) gives you freedom!
It gives you so much control over your money that you feel relief once you've mastered it. In the beginning, it can be overwhelming especially if you're overspending and in debt but just start! Give yourself a few months.
You've got this! Questions? Comments? Leave them below, I read every one of them!
This post may contain affiliate links. Read my disclosure policy here