This post may contain affiliate links, which means I'll receive a commission if you purchase through my links, at no extra cost to you. Read my full disclosure for more information.
Do you love reading but can't afford to buy book after book? Books can get very expensive, so to feed your love for books you have to know where to get free books!
Below I'm going to share with you 10 ways to get free books (paperback, ebooks, and audiobooks). If you love physical books it's a bit harder to find free ones but if you're willing to switch to ebooks and audiobooks you will have endless options.
Oh, and you don't even need a Kindle (or any e-reader) to do so!
That's right; there are many free e-reader apps and programs available to be able to read the many different formats of ebooks out there.
Since Kindle ebooks are the most popular I use Amazon.com's FREE Kindle Reading App which works on most devices.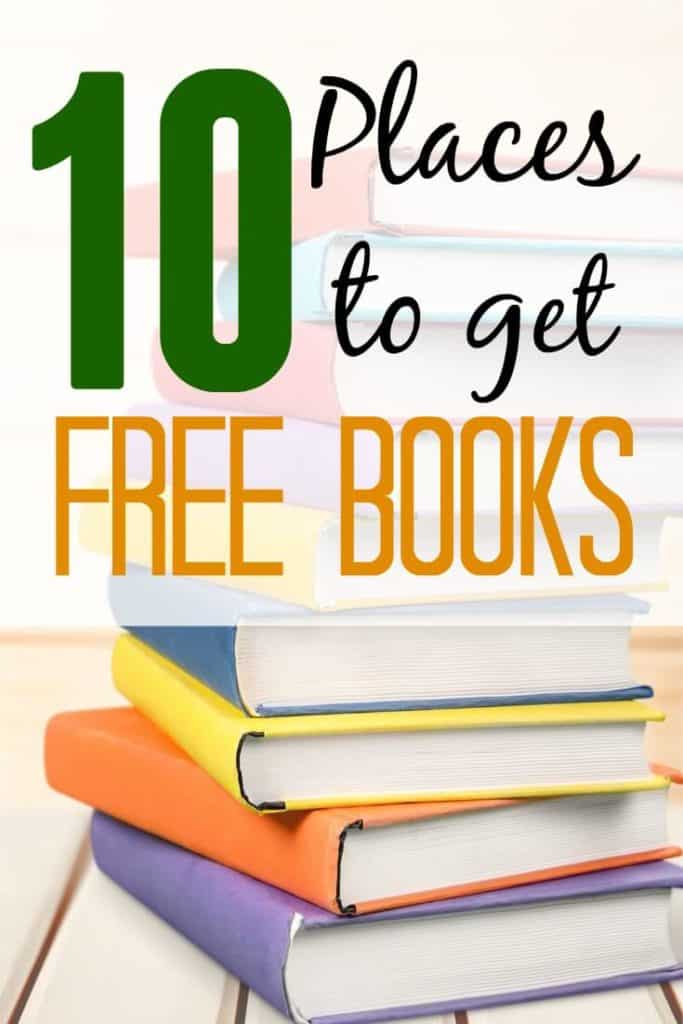 If you utilize this list, you'll end up with a FULL digital library and maybe a few physical books as well.
HOW TO FIND FREE BOOKS TO READ
1.

Free-Ebooks.net
Free-Ebooks.net gives you Unlimited access to all the Free Ebooks you want. Also, they now offer Audiobooks too!
If you're a huge audiobook listener you will want to check out my article on cheaper alternatives to Audible.
You can register at NO cost for a Standard Membership to read books online in any Internet Browser and download up to 5 ebooks in PDF format every month. They've got thousands of books, fiction, and non-fiction, for you to choose from.
Or, if you want Unlimited Access and Unlimited Downloads for ALL formats for any Ebook Reader, including Amazon's Kindle, BN's Nook, SONY's Reader or, of course, Apple's iPad, then you can enroll in a V.I.P. program for a nominal donation to get complete "1st Class" treatment.
2.

PaperBackSwap.com
PaperBackSwap is an online book club for people over 18 with US mailing addresses. They share books with each other using the US mail.
Each book you send gets you a book credit to order any available book for yourself. You pay postage for books you send; they pay postage for books you receive. Simple.
3.

BookBub
BookBub is a free service that helps millions of readers discover great deals on acclaimed ebooks. Members receive a personalized daily email alerting them to the best free ebooks and deeply discounted titles matching their interests as selected by their editorial team.
4.

BookGorilla
BookGorilla is a free site you signup for that will deliver a single daily email, tailored to your personal reading preferences, featuring the best deals on the best Kindle ebooks, either completely free or at deeply discounted bargain prices.
5.

Gutenberg.org
Project Gutenberg offers over 53,000 free ebooks: choose among free epub books, free kindle books, download them or read them online for free.
6.

Manybooks.net
Manybooks.net library contains more than 33,000 free ebooks formatted for Kindle, Nook, and most other e-readers. You can also access an HTML version of the books to read online.
7. Open Library
Open Library is a project of the non-profit Internet Archive and has been funded in part by a grant from the California State Library and the Kahle/Austin Foundation. They have over 1,000,000 books you can read online or borrow.
8. Amazon
If you have Amazon Prime you now get access to the NEW – Prime Reading where you can enjoy unlimited reading on any device, with over a thousand books, magazines, comics, articles, Kindle Singles, and more. You can check it out here.
If interested you may want to check out my article on whether Amazon Prime is worth it. Or grab a free 30 day trial.
9. Your Local Library
This is probably the most common and obvious place but most people forget about it. Visit your local library and grab a good book to read.
10. The Libby App
I wrote an entire article on how to use the Libby app to get free audiobooks and ebooks.
The Libby App allows you to borrow books and audiobooks instantly, for free, using just the device in your hand. This is one of my favorite ways to get books.
I use this method along with Scribd to listen to tons of audiobooks each month.
Did you like this list? Share it with your friends by using the sharing buttons above and below this post. Have a place you get free books that you want to share? Leave a comment below.
This article was originally part of The FREE STUFF SERIES. You can find more from that series below.
This post may contain affiliate links. Read my disclosure policy here