This post may contain affiliate links, which means I'll receive a commission if you purchase through my links, at no extra cost to you. Read my full disclosure for more information.
This post may contain affiliate links, which help me run the blog.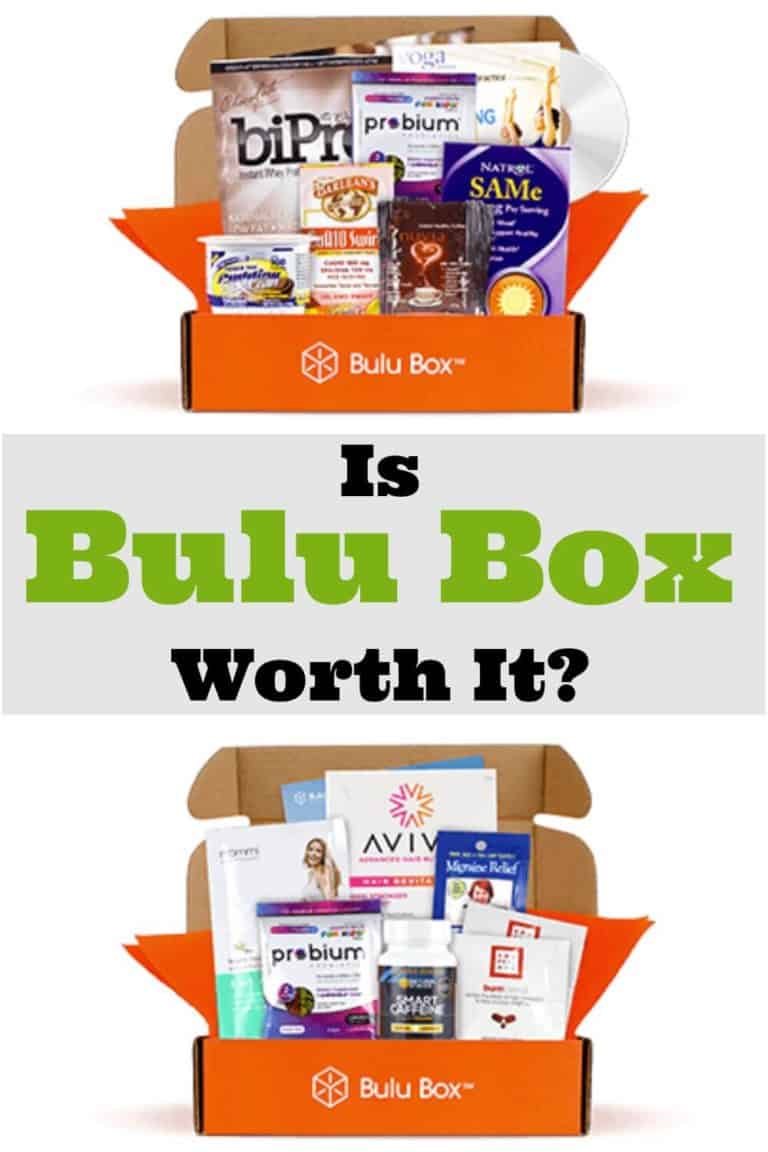 Is Bulu Box Worth It?
The popularity of subscription boxes is exploding. I feel like a new one pops up every day. Are subscription boxes worth it? To determine this, I decided I would review a few subscription boxes and give you my thoughts, that way you could decide for yourself. The first subscription box I am reviewing is the Bulu Box. This is not a sponsored post; I just wanted to share my experience with Bulu Box.
When I first saw Bulu Box, I was thinking why would I pay for a box of samples? Then I did some research and discovered that it turns out to be free (or even better keep reading to see the great deal they have going on now) once you factor in the rewards you can earn each month.
What is Bulu Box?
Bulu Box is a health, nutrition and weight loss discovery box designed to help you feel your best. Below is a picture of two of my boxes (sorry I ate half the first one before I thought to take a picture :)). Those biscuits and the fruit snacks were really good!
How does Bulu Box work?
1. TRY SAMPLES
You get to try 4-5 samples based on your profile before buying full-size so you don't waste your money. This is why filling out your profile is important so do not neglect that part.
When you first sign up, you have the choice to pick between the Bulu Box Original or the Bulu Box Weightloss. I chose the Bulu Box Original.
2. EARN POINTS
When you sign up for a month-to-month subscription, you can earn 50 points for each $10.00 Bulu Box. You can earn another 40 points (or more) by completing short Sample Surveys — that's about $10.00 back in Reward Points each month, making your Bulu Box essentially FREE.
3. CASH OUT
Once you've earned Rewards Points, you can use them like actual cash towards a full-size purchase of your new favorite product.
NOTE: Your Reward Points will expire 90 days after the date you earned them so make sure you use them up before then! I learned this the hard way after mine expired!
Is Bulu Box right for you?
To determine whether I wanted to sign up for a month to month box or a 3, 6 or 12-month plan I looked over the site to see what kind of products I could grab with the reward points that I would be earning. I discovered that Bulu Box had my favorite vitamins SmartyPants All-in-One Adult Complete and since I buy these vitamins every couple of months anyway I determined that it was actually a great deal for me. Check out a few ways you can earn points.
Earn 20 points for completing your User Profile.
Earn 50 points for each $10 Bulu Box you pay for in your month-to-month subscription.
Earn 1 point for every $2 spent on full-size products.
Earn 50 points for each friend you invite that signs up.
Earn 10 points for each sample survey you complete. There's at least 4 each month!
Look for other ways to earn extra points on sale items or by sharing or tweeting on social media.
Why it's an even better deal for you! 
Right now for a limited time, you can grab 40% off a subscription. That would mean that a $10 box would be just $6 and a 12-month subscription would be as low as $5.50 a box. When you factor in the rewards you can earn each month, this is a better than free deal!
To get this deal use promo code:  HEALTHYHOLIDAY at checkout. Grab a subscription here.
What do you think? Will you be grabbing a Bulu Box? What is your favorite subscription box?  Share your thoughts in the comments below.
This post may contain affiliate links. Read my disclosure policy here