This post may contain affiliate links, which means I'll receive a commission if you purchase through my links, at no extra cost to you. Read my full disclosure for more information.
USING THE CASH ENVELOPE SYSTEM
What exactly is the cash envelope system and how the heck does it work?
The cash envelope system was made famous by Dave Ramsey. If you're following him or have read his book The Total Money Makeover (highly recommended) then you've at least heard of the envelope system and that's probably what brought you to this blog post.
Related: Dave Ramsey's 7 Baby Steps Explained
The cash envelope system is a simple system where you use cash instead of a debit or credit card (I go into greater detail below).
While it's pretty simple, it does take some time to get used to especially if you don't usually use cash or tend to just swipe all your purchases.
If carrying cash just scares the heck out of you then you can switch to a cashless envelope system (I talk about how to do that here). But before you do that try this system first! Using actual physical cash in hand has an emotional effect on your spending versus just swiping a card.
How to Use the Cash Envelope System
1. CREATE A BUDGET
In order to start using the cash envelope system, you have to have first created a budget. You need to know how much money to designate to each envelope and a budget is how you do that.
If you need help creating your budget check out how to create an effective budget.
Once you've created your budget, identify which categories in your budget will be tracked using cash envelopes and determine your cash amounts.
In order for the cash envelope system to work you need to know how much money you have to spend after all your bills are paid.
Whatever money is left will get divided up into different envelope categories.
Here are a few examples of cash envelope categories:
Groceries
Eating Out
Gifts
Kids
Entertainment
Giving
Clothing
Everyone's categories will be different but those are a few common cash envelope categories I see.
2. DECIDE WHAT ENVELOPE STYLE WORKS FOR YOU
Second, you'll need envelopes! Makes sense right?
You can start with just plain blank white envelopes or use cash envelope printables or purchase some ready-made cash envelopes or cash envelope wallets from Amazon.
Use what works for you! If you're someone who likes pretty things then get a pretty cash envelope wallet or pretty envelopes. If not then use plain envelopes or even a small accordion file to divide your cash.
2. GET THE CASH & FILL YOUR ENVELOPES
Now that you've determined your categories, set your budget, and have your envelope system ready you can now start filling your envelopes.
Cash the portion of your paycheck that will go into your envelopes. If you get direct deposit then you'll need to go to the bank or ATM and grab the total amount of cash for that week, month, etc.
Most ATMs now have the option to choose your cash denominations so have your cash amounts ready before you go so you can select your cash denominations while making your withdrawal. You can write them on a piece of paper or in the notes app on your phone.
Or write the breakdown of those denominations on the back of your withdrawal slip if you're going inside the bank or through a drive-through so that the teller will know what to give you.
Stick the exact amount of cash into the designated envelopes, recording the starting balance on each individual envelope.
3. RECORD YOUR TRANSACTIONS
Now that your envelopes are full you are ready to start. You'll want to carry the envelopes you need for the day with you and avoid bringing a credit or debit card if you can.
As you take money out of each envelope you'll need to write it down on the envelope or a cash tracker slip just as you would with a checkbook register (remember those?).
Whenever cash enters or leaves each envelope, record the amount you spent and the new balance so you know how much you have left for that week or month.
4. STICK TO YOUR BUDGET
If you run out of money in any one category and your envelope is empty that means you can't spend any more money in that category!
When first starting out you can "borrow" from other envelopes but just know that this is a signal that you may need to adjust your budget or your spending.
Be sure to record any money you took out of another envelope and record the new amounts.
BUT you want to avoid having to "borrow" from any other envelopes too often and adjust your budget and spending as needed during your next budget review.
5. ALLOCATE ANY LEFTOVER CASH
If you have cash left over at the end of the week or month then you are doing great!
Any leftover cash should be allocated towards debt first and then towards savings. If you haven't already built up an emergency fund then put any extra cash towards your first $1000 emergency fund then start tackling your debt.
Related: How to Pay off Debt When You're Broke
If you find you always have extra in certain categories then reallocate that money to any categories you may be going over in or start directing it right at paying off your debt or building your savings and reduce that category amount for the future.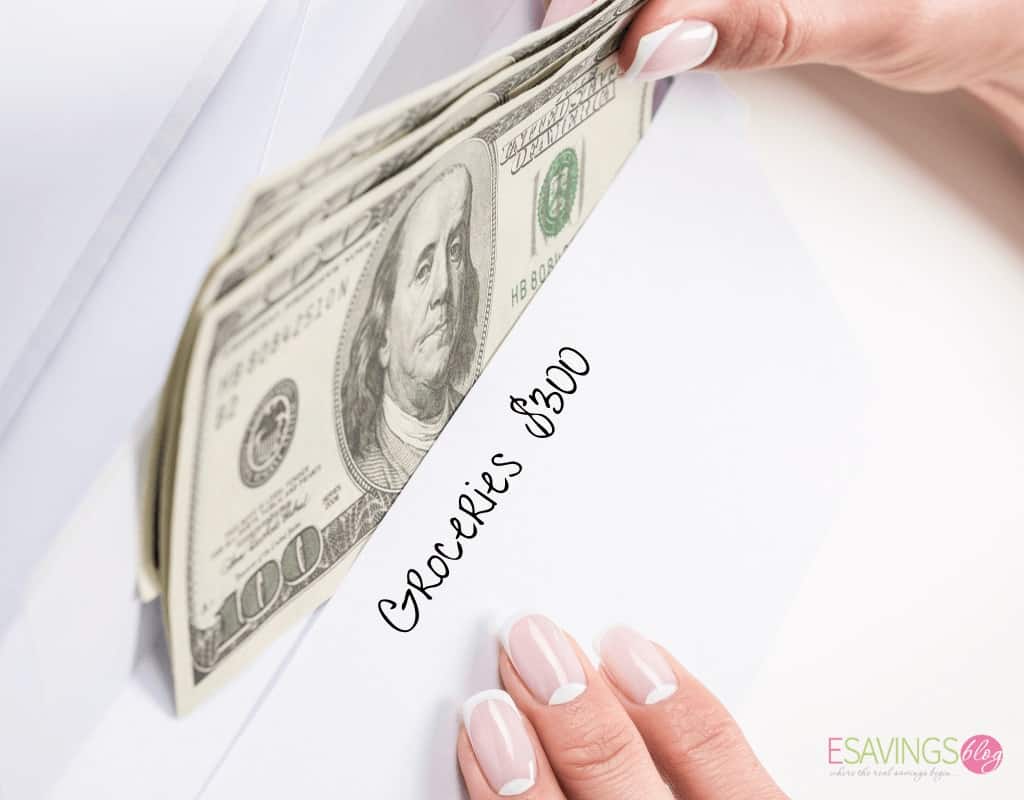 WHAT TO DO IF THE CASH ENVELOPE SYSTEM ISN'T WORKING FOR YOU
First, determine why it isn't working for you. Are you not budgeting correctly? Remember to check out how to create an effective budget.
Are you losing cash or just feel nervous about having cash on you? Do you constantly forget your cash envelopes at home? If this is the case and you've actually tried the system for 3-6 months and it still isn't working then I suggest trying a cashless envelope system.
To learn about cashless envelope systems, check out: How to Use the Cash Envelope System Without Cash.
The whole point of the envelope system is to use it to get control of your money instead of your money controlling you. So whether you end up using the cash envelope system as is or switch to a cashless envelope system, the concept will be the same.
Also, keep in mind that it will take time to adjust to the cash envelope system so don't be too hard on yourself and give up. You can do it!
Keep going and you will soon see why it works so well for so many people.
Questions? Comments? Leave them below!
This post may contain affiliate links. Read my disclosure policy here