This post may contain affiliate links, which means I'll receive a commission if you purchase through my links, at no extra cost to you. Read my full disclosure for more information.
Wondering how to make money without getting a job? There are so many ways to make money right now and you're sure to find one that fits your circumstances.
I've personally tried a bunch of these and still do some now along with blogging to earn an income.
Sell Your Stuff (It's Easier Than You Think)
There are so many ways to make money now online or off by selling your stuff. Many of us just have way too much and for what reason? Do you have clothes in your closet or in storage that you don't wear? Do you have things you bought and never used?
A few years ago I started decluttering my home and have found that it's not only freeing to get rid of stuff just taking up space but I'm making money doing it as well!
I'm currently selling my clothes on Poshmark (you can check out my experience here). I love it because they do everything for you including creating the shipping label and customer service. I walk you through the process of Selling on Poshmark.
Below are just some of the items I was able to sell on Poshmark.
Another great way to sell even more things is on eBay! If you're intimidated by eBay (like I was), go ahead and grab the Free Beginners Guide to eBay created by my friends over at FleaMarketFlippers.
You can pretty much sell anything on eBay and reach a wide audience.
Flip Items for Profit
If you love to shop flea markets, thrift shops, or even online marketplaces like Facebook Marketplace and OfferUp then this could be a great income earner for you.
I was able to interview a family who has made a full-time business out of buying and selling items (aka flipping).
No clue where to start or what flipping even means? Check out this Free 1 Hour Flipping Webinar.to learn how to flip items for profit! Sign up here.
Become an Amazon Seller
Ok, I swear this list isn't all about selling but it's a great way to get money fast so I'm going to mention one more way to sell things and make money.
Sell on Amazon! Amazon, as you know, is a trusted well-known marketplace where millions of people shop. You can become a seller on Amazon and sell products through their FBA program and make some extra money or even a full-time income like the family I interviewed here.
Check out the interview I did with Jessica from The Selling Family who teaches people how to make money selling on Amazon.
Do you want to learn how to open your Amazon account and start finding profitable inventory to sell? Check out this Free Amazon FBA Course to see if it's something you would be interested in doing. Sign up here.
Rent Your Stuff
Did you know you can rent your spaces or even things out for money? Yup! You've probably heard of Airbnb for renting out your home or rooms in your home but there are so many more things you can rent out.
Have a Motor Home, Pop-Up Camper, or Travel Trailer? Rent it out with RVshare and earn a good chunk of change while you're not using them.
Not using your car for periods of time? Rent out your car with services such as Turo.
Extra space? Rent out your garage, shed, storage area, or extra space and make money using Neighbor.com.
Anything else? Check out Fat Llama where you can rent out almost anything! I've seen people renting out everything from Playstations to Canoes.
Deliver Food
You're probably already familiar with these but I wanted to make sure to add them to the list because they're quick and easy ways to make money in your spare time without getting a job in the traditional sense.
Become a delivery driver and deliver food to people through the following sites:
Drive People Around
Have a reliable car and wouldn't mind driving people around whenever you need extra money? Consider becoming a freelance Rideshare driver.
Companies to apply to be a driver for:
Shop for Others
I did a whole article on how to get paid to shop but I wanted to mention it here as well. You can shop for others and get paid as a shopper on your own time.
Sign up to be a shopper with these companies:
Babysit
You did it when you were 14, why not try it again? Babysitting can be a great way to make money whenever you need it. You can utilize sites like Care.com to find families who need sitters in your area.
Become a Caregiver
Similar to babysitting, caregiving can be a great rewarding way to earn money. Take care of seniors or other people in need of a caregiver and make some money on your own schedule.
You can find these types of jobs on Care.com as well.
Walk or Sit for Pets
Love animals? Would you want to walk them? House sit for them? Check in on them and get paid to do it?
You can do all of these and more as a way to make money. Find pet-related jobs on Care.com and Rover.com.
Do Tasks for Other People
Like to help others out? You can do tasks for others and get paid for it! It could be simple tasks or more specialized work, there are so many possibilities.
Some Tasks You Could Do:
Yard Work
Running Errands
Hanging Pictures
Mounting a TV
Painting
House Cleaning
Junk Removal
Handyman Work
and Much More!
How do you find people to do tasks for?
Check out sites like Handy.com, Thumbtack, and TaskRabbit and sign up as a tasker or pro to get access to a bunch of customers.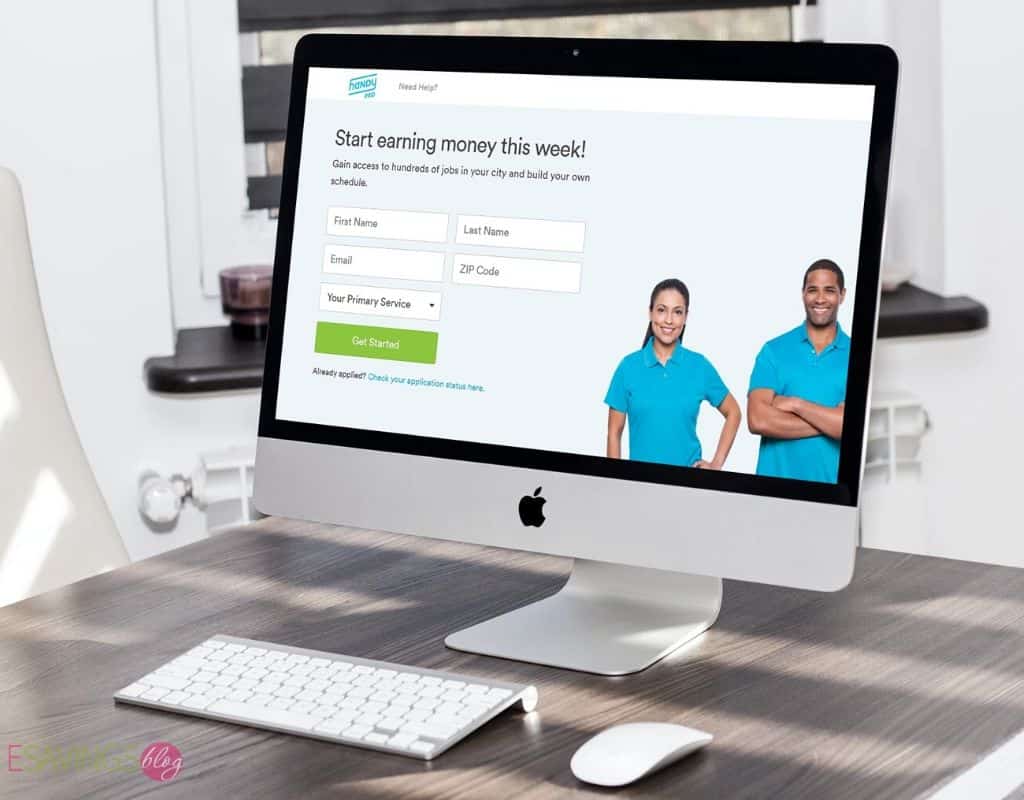 Become a Freelance Writer
Do you love writing? Get paid as a freelance writer and write for others. It's a super flexible way to earn some extra money while working on your own schedule.
I personally do not love writing (why do I blog?) but I love helping others so I write on my blog to do just that. BUT if you love to write and are good at it, you can make some really great money in your spare time or as a full-time business.
If you're interested in finding out how to become a freelance writer, check out How to Become a Paid Freelance Writer for all the details.
Do Virtual Assistant Work
A virtual assistant basically means that you're helping someone out from home (or anywhere) remotely. You have a service to offer (writing, scheduling, making phone calls, etc.), they are in need of your service and you make a deal to trade time (or task) for pay.
There are TONS of services that can fall under the VA or virtual assistant umbrella – services like social media, email or blog management, graphic creation, accounting… the list goes on.
Virtual Assistants are in demand!
If you want to learn more about being a virtual assistant and what types of services you could offer then grab this free resource called 4 Quick Steps to Jumpstart Your Virtual Assistant Business.
Become a Bookkeeper
You may think of this as a "job" but it's something you can actually do as often as you like when you need to make money.
If you think this is something you want to learn more about you can check out this free bookkeeper training.
Teach English Online
Like teaching kids? How about teaching English? You can get paid for teaching English to kids online with VIPKID.
VIPKID offers world-class English language instruction online, helping students develop not only their English language ability but also their critical thinking and creativity.
To become a teacher at VIPKID you do need a Bachelors's degree but it can be on any subject. It's a great way to earn some extra money and help others. You can find out more here.
Become a Party Planner
Like planning parties? How about decorating for them?
You can start offering services to friends and family and earn extra cash. I did this for a while and wrote an article about starting a party planning business on a budget if you're interested.
Edit Court Transcripts as a Scopist
What on earth is a Scopist? I first learned about Scoping from Work At Home School. Because I hadn't heard about it, I knew many of my readers probably haven't either.
A Scopist edits transcripts for court reporters. Court reporters write or "take down" proceedings using steno writers. They import their steno notes into computer-aided transcription software that translates the steno into English.
Court reporters then hire scopists to help them save time in the editing process so that they can make more money themselves.
This can be a great part-time gig and can be done from the comfort of your own home.
Want to learn more about scoping? Internet Scoping School offers a free mini-course to get started! Check out the Free Scoping School Mini-Course.
You can also check out my full article on scoping here.
Do Voice Over Work
Have you been told you have a great voice? Maybe you love narrating books? If you've ever heard a commercial or listened to an audiobook and thought "I could do that" then this income-earning opportunity might be for you!
Learn how you can get started with this free voice over training. This free training is taught by Julie Eickhoff who is a professional Voice Artist.
I had the chance to interview her on the blog here, where I ask her all about being a voice-over artist and how to get started.
Check out the interview here or go right to the free training here to see if being a voice artist is for you.
So how did you like this list? Does anything peak your interest? Want more ideas? Be sure to check out my Make Money Page!
Questions? Comments? Leave them in the comments :).
Not on my list? Not only do I share money-saving tips but I also share money-making tips so signup below and get all the tips delivered via email! Plus grab my FREE BUDGET PRINTABLES!
This post may contain affiliate links. Read my disclosure policy here