This post may contain affiliate links, which means I'll receive a commission if you purchase through my links, at no extra cost to you. Read my full disclosure for more information.
No money for clothes? I will show you all the ways I know to get free clothes in this article.
Whether you're living on a low or fixed income or you're cutting clothing out of your budget because you're trying to pay off debt, clothes will still be needed.
This is why I wanted to share with you how you can get free clothes and not have to worry as much about affording them when needed.
It's going to be a big list so make sure to browse through all of the options and find the one that fits best for you and your family. I'd suggest trying multiple options as some do take time to earn free clothes and some are more instant and will get you free clothes faster.
Find or host a Clothing Swap
Yes, clothing swaps are actually a thing! This can be done both online and offline but I'd start with searching in your own community with a quick Google search.
First, what is a clothing swap? A clothing swap is a get-together where you and each of your attendees bring an agreed-upon amount of clothing and accessories to the event. All of the items are fair game, so you can trade, barter, and donate clothes to your friends and neighbors while snagging some new stuff for yourself.
Where do you find a clothing swap?
Well, the easiest way like I mentioned earlier is to Google clothing swaps in your area. You can also host one yourself and invite people in your community as well as family and friends.
Have a Facebook account? Search right on Facebook for local clothing swap events and groups where you can swap items. This would also be a great place to promote a clothing swap you may want to host.
You can also check out websites like Rehash Clothes and Freecycle.
Freecycle is an entirely nonprofit movement of people who are giving (and getting) stuff for free in their own towns and neighborhoods. It's all about reuse and keeping good stuff out of landfills. It's a great place to browse and search for local groups in your area.
Rehash Clothes is an online option that lets you swap your clothes with other members, so you'll get a new wardrobe and pass on the clothes you no longer want.
TAKE ADVANTAGE OF SIGN UP & REFERRAL CREDIT WEBSITES
There are many clothing websites out there that will give you free credits to shop just for signing up and more referral credits to shop when you refer friends.
One website you can check out is Schoola.
Schoola is an online thrift website that offers quality clothing at up to 70% off retail with 40% of proceeds benefiting kids. When you sign up using a referral link (here is mine) you get $10 to spend for free!
Then if you want, you can refer friends and get $10 for you and $10 for your friend! The more you share, the more you receive. I love it because you can share this great offer with friends and get credits to shop more.
Get $10 when you use my referral link 🙂. Sign up for Schoola.
Want more info? A wrote a whole blog article about websites that give referral credits you can check out as well (keep in mind that right now during the pandemic many sites have stopped or paused their referral programs but please bookmark for later).
Check Craigslist and Other Sites
Most people are familiar with Craig's list but there are also websites and apps like Letgo, Offerup, and Facebook Marketplace that have free sections where people post free items.
Out of these options, I prefer Facebook Marketplace because you will see more current and available options. Also, Offerup and Letgo allow people to bid and make offers on items so when searching for $0 items you will get a bunch of items that say free but are just looking for offers.
TIP: Instead of doing a search using the price range of $0, go directly to the "free" section or category of the website to get more accurate free matches. As you can see in the screenshot below on Letgo, they have a "Free Stuff" option you can click on.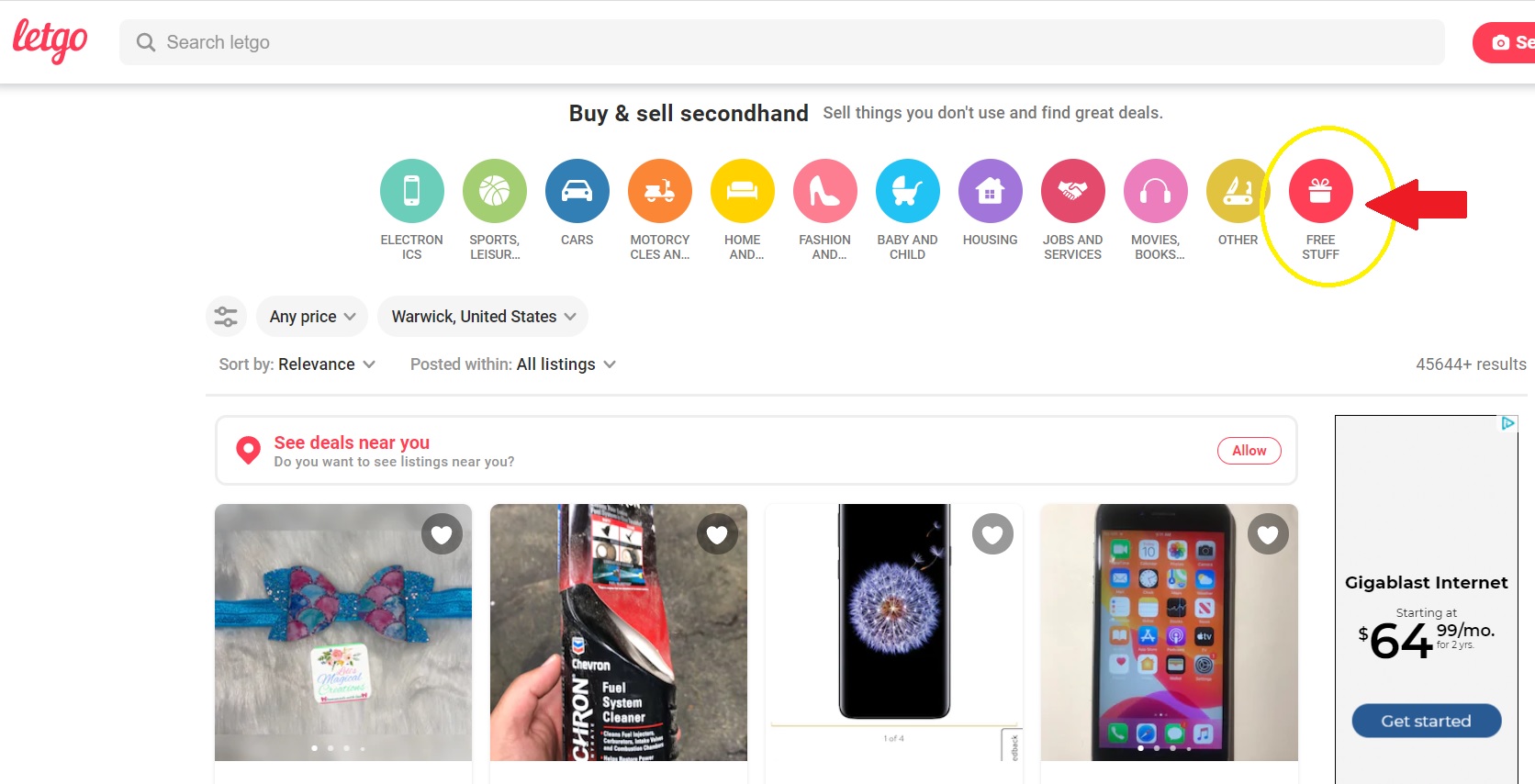 The key with these options is to always be looking and to not wait because free items go fast.
I see a lot of items are listed free after garage sales or moving sales and the person posting will leave items on the lawn or sidewalk for pickup or you can set up a time and place to meet (a highly populated public place would be my suggestion).
As with anything always read the descriptions on the listing posts and always be safe when going to get your items. Also, beware of scammers who may live in another state (or locally) and create fake accounts or ask for personal information. Look at the poster's ratings and Facebook account if they're on Facebook.
JOIN

Loyalty & REWARD programs
I love loyalty programs and usually sign up for all of them since most are free. Even if you don't often shop at a store, signing up for their loyalty or rewards program will get you many perks including free stuff!
If you don't want to deal with tons of sales email, I suggest creating a separate email account just for reward programs and only use that to sign up.
Kohls for example often sends me $5 to $10 to spend at their store with no minimum purchase. I get this reward via email as well as through the regular mail so make sure they have your address.
JCPenney also often sends out coupons and rewards as well as does events where they hand out coupons worth $10 or more if you wait in line in the morning.
These are just a couple of examples but there are so many more out there!
YOU MAY ALSO LIKE: Want free stuff on your birthday? Check out Places that Give You Free Stuff on Your Birthday.
Find Free Clothing Closets in Your Area
If you're really struggling financially, there are clothing banks that give away free clothes.
Low-income families can find free clothes, including shoes, winter jackets, school supplies, work uniforms, and more from clothing closets in their area.
These charities operate in most major cities and towns. While the exact types of items or financial assistance provided by each charity will vary, in general, a clothing bank or closet is a low cost or free store where qualified customers can both browse and shop for needed items.
Do a Google search for clothing closets in your area or check out Needhelppayingbills.com for a list.
FIND A NONPROFIT IN YOUR AREA
Another great option is to check non-profit organizations like the Salvation Army and Operation Warm, which have been providing over 2 million coats to children in need since 1998. Keep in mind that some organizations may require you to fill out paperwork before receiving items so that they can determine your need.
Another great place to check with is your local church. Many churches are involved in charitable giving and will be able to at least direct you to help in your area.
ASK FRIENDS
A lot of people have clothes in their closet that they just don't wear and probably will never wear (myself included). Don't be shy to ask friends if they have any unwanted clothing.
It will help you both out because that friend has probably been wanting to clean out their closet or has been meaning to donate clothes for a while but just hasn't gotten around to it.
They will feel great that their clothes are now getting some use.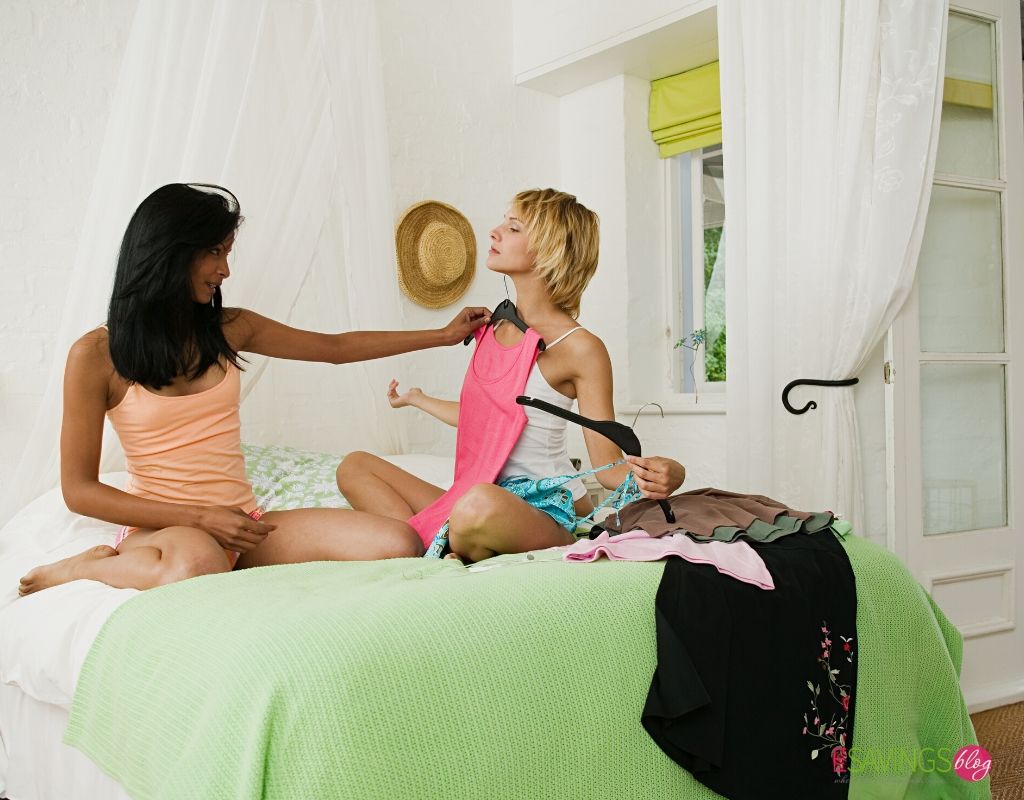 Save your receipts
Yes, receipts can make you money and gift cards and you can use that money and those gift cards to get free clothes.
Some of my favorite ways to make money with my receipts are through Fetch Rewards and Ibotta.
I write extensively on these two programs because I love them so much.
You can sign up for Fetch Rewards here using code: ESAVINGS and get 2000 points to start (you only need 3000 for your first gift card).
You can sign up for Ibotta here and grab a $10 bonus!
Like the idea of getting money for your receipts? Check out my full article on How to Get Paid for Your Receipts.
Shop through cashback sites and use the cash for free clothes
If you're doing any shopping especially online, make sure you're utilizing a cashback program like Rakuten and TopCashBack first.
These are free programs to join and Rakuten will start you off with a free $10 gift card when you sign up via my link here!
TopCashback varies as to what bonuses they give but they are still one of my favorites because of the high cashback amounts.
Check out this list of the cashback sites giving bonuses as of today and I suggest joining a few so when you shop you can go through the one that is offering the best cashback that day and also so you can claim the free bonus money!
Some of them require you to shop through them once to get your bonus so a tip I often share is to shop through each of these sites for your normal monthly purchases like soap, dish liquids, detergents, etc. Do store pickup or delivery at a store like Walmart or Target (they have most of the popular stores listed for cashback) and start getting cashback on your purchases as well as the bonus.
I'm sure you will find something you need to buy anyway and then you will get your free credit to shop plus cashback on that purchase!
Want to learn more about cashback websites? Check out my Top 10 Cashback Websites and see how much I've earned and how through each one.
Sell your unwanted stuff & use the cash for clothes
A great way to get free clothes is to sell the ones you have and use that money towards new or used clothing.
Maybe you've grown out of clothing or have a different need right now. Not only can you get new clothes this way but you can earn some extra cash.
My two favorite places to sell my clothes are on Poshmark and Mercari. I've made over $341 on Poshmark already. Check out my experience and tips for selling on Poshmark.
TIP! Sign up with my referral code: ESAVINGSBLOG to get a $5- $10 bonus (varies depending on when you are reading this) you can use to shop! Sign up here and don't forget the code to get your bonus.
You can also check out how one woman made over $24K on Mercari and turned selling into a business.
What I love about these two places for selling is that they are super easy to learn and they create the shipping label for you and take care of customer service and more.
You can also sell on Facebook Marketplace, Offerup and Letgo if you prefer. These might be a lot quicker to get things out the door faster.
FREE GIVEAWAYS
A fun option you may want to try is to look for free giveaways. There are always companies giving away free t-shirts.
Greek-Olive.com gives away free sample t-shirts. I just requested one and will post a picture when I get it. You can sign up for one here.
If you're a nurse, you can request a free nursing tshirt from BoardVitals. Get your BoardVitals Free Nursing T-shirt here.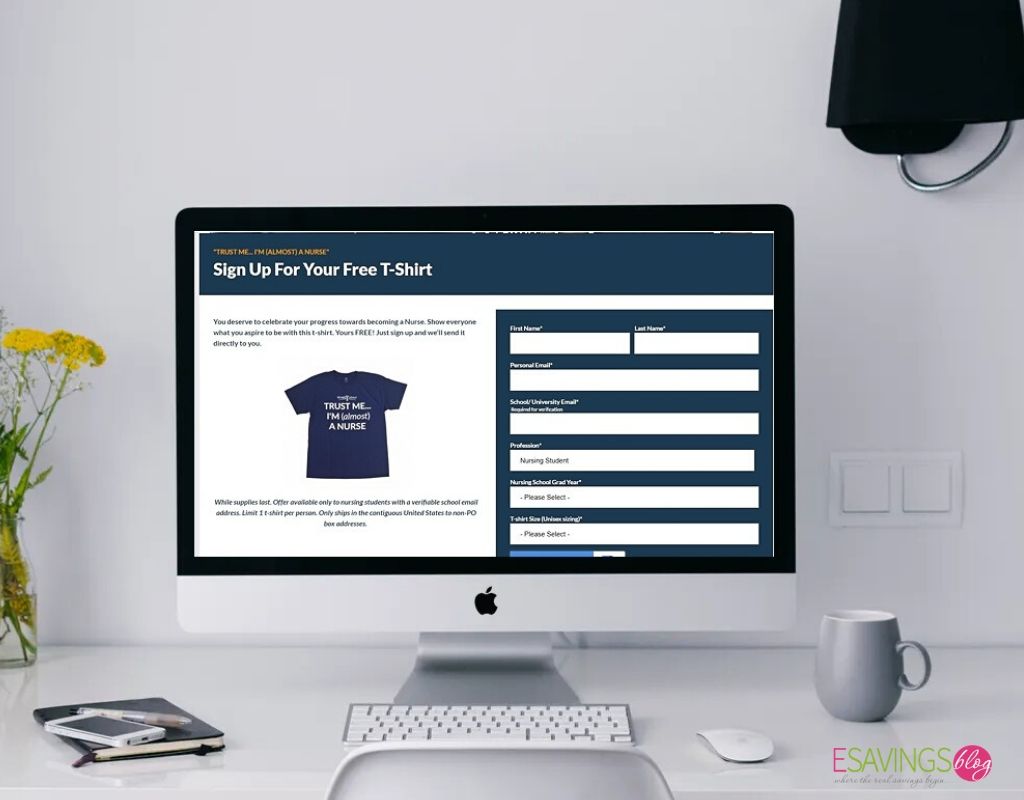 When doing my research for this article I found that MoneyPantry has a nice big list of how to get free t-shirts you can check out here.
Keep in mind these freebies and giveaways are always subject to stock and can change at any time. If you come across any that you want to add to this list please leave it in the comments and I'll add it!
Questions? Comments? Leave them below and be sure to share this post with friends!
MISSED ANY PART OF THE FREE STUFF SERIES? CHECK IT OUT BELOW:
Need help with budgeting and saving money? Join my email list below and get money-making and saving tips, promotions, and exclusive freebies sent right to your inbox. Sign up below!
This post may contain affiliate links. Read my disclosure policy here