This post may contain affiliate links, which means I'll receive a commission if you purchase through my links, at no extra cost to you. Read my full disclosure for more information.
I've struggled with skin issues all my life. I have acne-prone and sensitive skin and over the years I've been to dermatologists and had facials, chemical peels, and acne laser treatments.
While I was loving getting pampered only some of the treatments were covered by my health insurance because of my acne.
Getting facials and other beauty treatments can be really expensive and its a luxury we can't all afford.
This is why I now do my spa facials at home!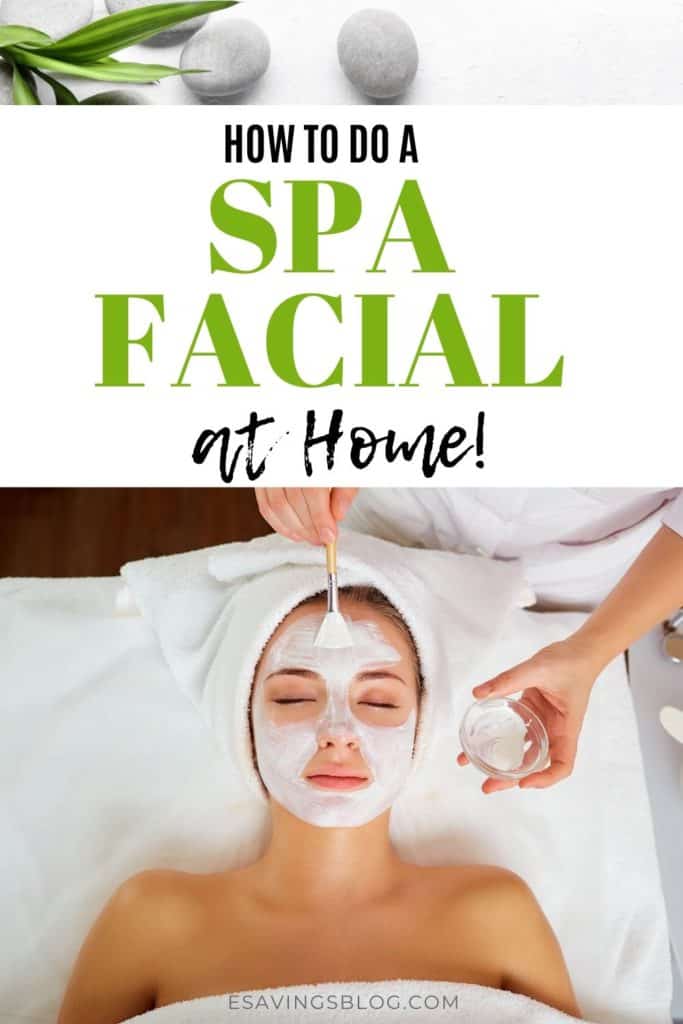 I not only save myself a ton of money but I save time by not having to drive to any appointments.
There will be products you need if you want to have the full spa-like facial experience, but keep in mind that you'll only be buying these items once and they can be used over and over again each month.
Plus some items you may already have at home!
Keep in mind I'm not a dermatologist or esthetician these are just some tips I use at home and have learned from getting treatments and facials over the years. ENJOY!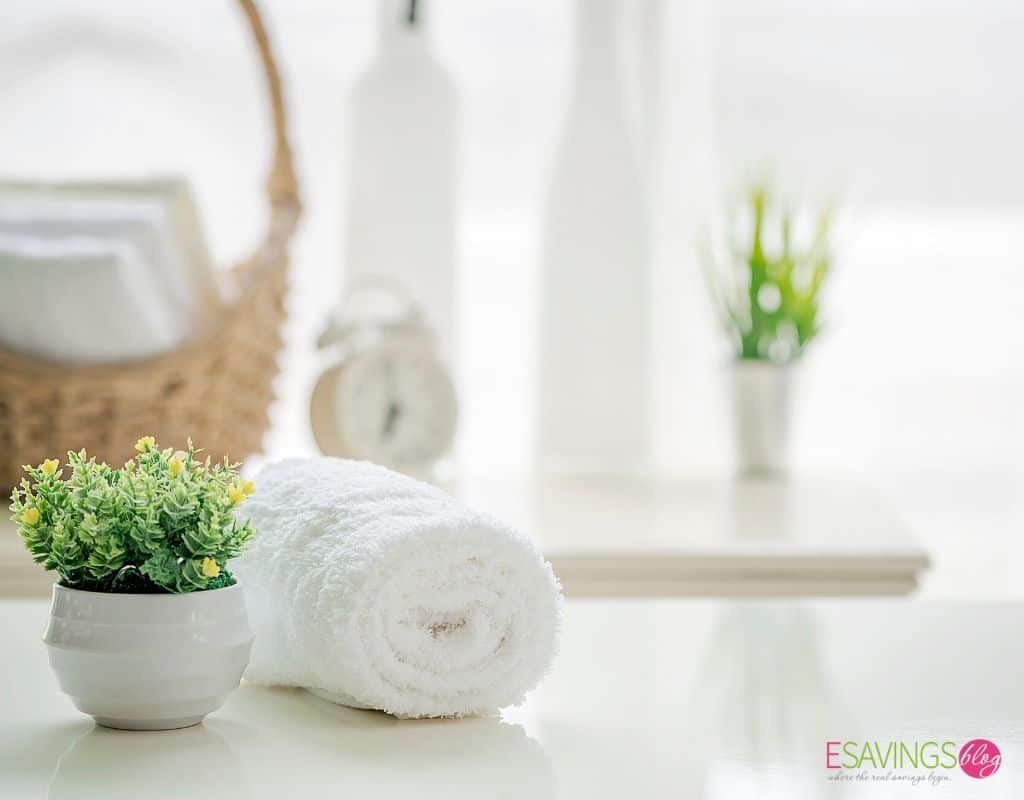 HOW TO DO A SPA FACIAL AT HOME
Create a Spa-Like Environment
When you get a professional facial one of the reasons why they're so great is the relaxing environment.
You walk into a clean clutter-free room that smells fresh, has soothing sounds playing, and a bed for you to relax in with no distractions.
To emulate this at home I suggest doing your facial when it's quiet and when there will be no interruptions.
Making sure its a relaxing experience.
Put on some quiet soothing music. You should be able to stream some free meditation sounds or music online.
For my bedroom where I relax during my facial, I picked up a Himalayan salt lamp to add that extra touch. This is totally optional!
If you've never heard of a Himalayan salt lamp they're said to help with everything from your skin to your sleep.
Plus they're beautiful and give your room a nice glow. You can check one out here.
Get Comfortable
Now that you have your environment ready, its time to get comfy!
For this step, you really just need to have some nice comfortable clothes on and a robe if you love robes like me.
You will want to tie your hair up on top of your head so it's not in the way when you lay down. You can keep it out of your face with a cloth headband.
You also want a place to relax while you're waiting for your facial mask to dry (don't worry we will get into the at-home facial steps next).
A bed or couch is just fine just make sure you have a blanket or throw in case you get cold.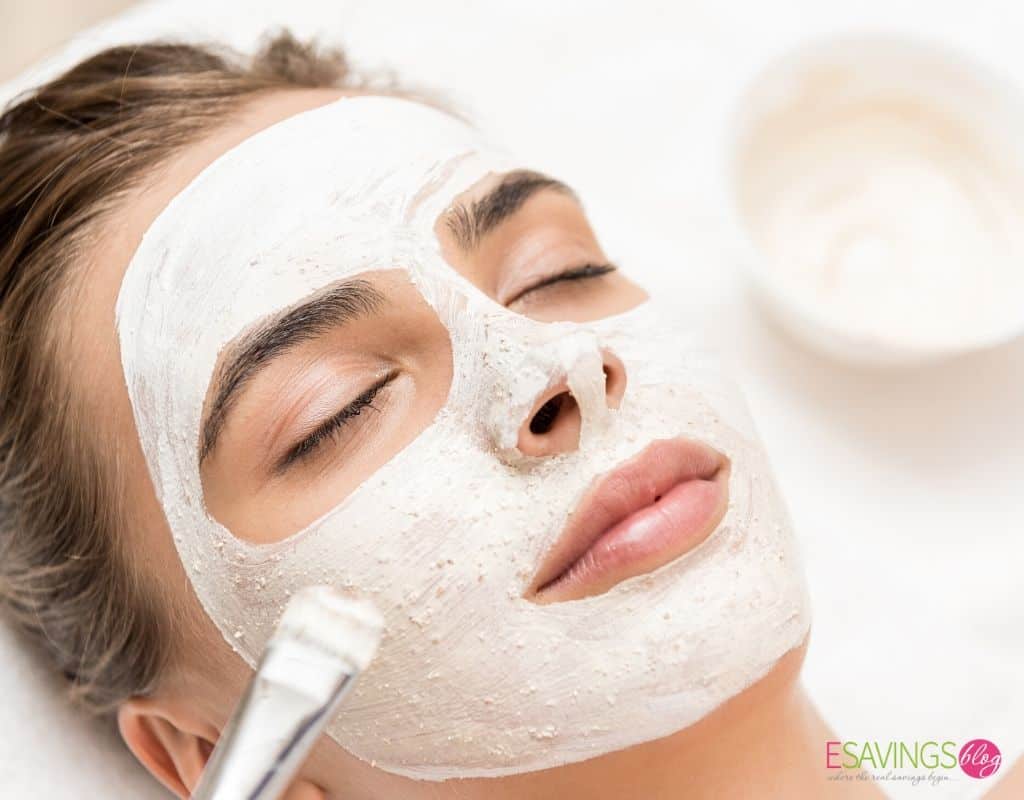 At Home Facial Steps
Now we get into the fun part, the actual at-home facial steps!
What you will need all depends on you but these are the basics for most facials. I will mention some products I use in the steps but feel free to use any products you may already love and use.
1. CLEANSE
You will want to use a gentle non-abrasive cleanser to wash your face and remove any makeup.
A few I suggest are SkinActive Micellar Foaming Face Wash, Cetaphil Gentle Cleansing Bar for Dry/Sensitive Skin, or one I'll be trying very soon InstaNatural Vitamin C Facial Cleanser.
You can use a cotton round or a clean soft 100% cotton washcloth. I prefer a washcloth for this step.
You want to be very gentle on this step and remove makeup but don't scrub your skin because we will be exfoliating later.
2. STEAM
After cleansing you are going to want to steam your face in order to open up your pores to get them ready for the next steps.
If you can invest in a facial steamer they are great. You can find them affordably here.
Alternatively, you could boil water, put it in a bowl, and place your face over it to absorb the steam.
You only want to do this for about 5 to 10 minutes. If your skin is very dry maybe even less. Just enough to open up your pores.
Side note: I would be cautious using the blackhead removal tools that sometimes come along with these steamers unless you know what you're doing.
3. EXFOLIATE
Now that your pores are open you want to do some exfoliation.
For this step, you can use a gentle exfoliant product of your choice but I like to use a Charcoal Infused Konjac Sponge.
You just rinse and allow sponge to fully absorb water then gently massage your face using the sponge in a circular motion. You don't even need a cleanser with this sponge (you can if you want).
Or you can use a gentle face scrub like this one from Cetaphil. You want it to be gentle and not abrasive like some apricot scrubs on the market.
4. APPLY A MASK AND RELAX
The next step after you're done exfoliating is to apply a face mask and relax.
I'm currently using the Aria Starr Dead Sea Mud Mask. I have combination skin and I'm oily in my t-zone.
Another popular one is the Aztec Secret Indian Healing Clay Mask which I will be trying next.
If you have very dry skin you can use a moisturizing face mask like Burt's Bees Intense Hydration Treatment Mask.
The face mask you choose will all depend on your skin type so read the description and if you've never done a face mask or have super sensitive skin, I recommend doing a patch test ahead of time.
TIP: For combination skin, you can use two different masks. I usually apply a mask for pores and oily skin in my t-zone and a hydrating mask for the rest of the areas.
Since most masks will take time to dry you will want to lay down and relax during this step. Listen to your calming music or just enjoy the quiet time.
Once your mask is dry, take it off using a warm wet washcloth or cotton pads and move on to the next step.
5. TONE AND MOISTURIZE
The last step is to tone and moisturize. The toner will close your pores back up and because facials can be drying you definitely want to moisturize even if you have oily skin!
Use a gentle toner and moisturizer, I recommend one that's non-comedogenic and fragrance-free.
Some dermatologist favorites seem to be Cetaphil and Cerave. If you're going out after your facial be sure to use one that contains sunscreen or add sunscreen on top to protect the skin.
You can also add a serum at this time too.
That's it! You're done! Treat yourself to an at-home facial once a month if possible but don't overdo it because you could damage your skin.
I hope this post helped you and you share it with your friends! If you have any questions or comments leave them below!
This post may contain affiliate links. Read my disclosure policy here