This post may contain affiliate links, which means I'll receive a commission if you purchase through my links, at no extra cost to you. Read my full disclosure for more information.
Learn How to Decorate on a Budget (Like a Pro!)
Want to learn how to decorate your home on a budget like a pro? Whether you're looking to decorate your home, apartment or even just your bedroom or living room, it sometimes can get overwhelming and costly.
That's why it would be great to be able to hire an interior designer if it was in the budget.
I know when I bought my home, I definitely couldn't hire a designer and I thought I had good taste and could do it myself.
I ran out and bought furniture and decor without actually having a plan. I had a vision but it really didn't come together how I imagined in my head.
I ended up with furniture not fitting in the room the way I wanted and decor that I never ended up utilizing. I also ended up wishing I had chosen different colors for my walls and even my furniture.
Bottom line. I'm not a designer (as much as I think I am) and I didn't do the proper design and space planning that I should have.
Now that I've been in my home for over 14 years, I think I need a redesign! But this time I'm going to be using the Designer in a Binder system that just came out.
When I first found out about Designer in a Binder I was really relieved because it really takes all of the guesswork out of designing a home you will love on a budget (the best part is yet to come so keep reading)!
Plus the hours spent googling ideas and scouring Pinterest were taking a toll.
I needed to learn from a professional and get feedback on my ideas.
If you ever wished you could hire an interior designer but couldn't afford it, then you're going to love this! If you have all these ideas in your head of how you want to decorate but just cannot put them together then this may be the solution.
WHAT IS DESIGNER IN A BINDER?
Designer in a Binder is like a design planner + a design course + a support group all in one!
Designer in a Binder was created by Tasha at Designer Trapped in a Lawyer's Body. She has been featured on websites like Elle Decor, HGTV, Real Simple, Better Homes and Gardens, Good Housekeeping and Apartment Therapy.
She even appeared on the Rachael Ray show to talk about a $71 laundry room makeover that she did in her own home! So she definitely knows a thing or two about budgeting!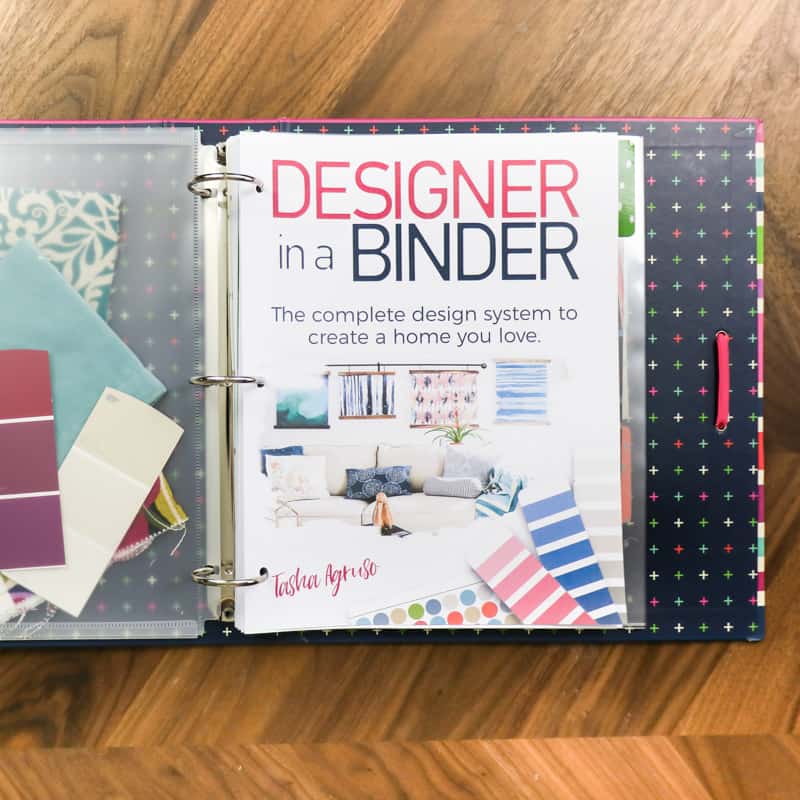 So what is in Designer in a Binder?
In a nutshell, Designer in a Binder is a complete design system to create a home you will love without having to hire an expensive interior designer.
You become your OWN interior designer with the Designer in a Binder and it's a fraction of the price of hiring an interior designer for even just 1 hour! Plus you can use it over and over again for each project you do.
It's like a design planner on steroids with all the tools for getting started without feeling overwhelmed.
Remember I mentioned the best part? Here it is!
You can get feedback and advice right from Tasha in a Private Facebook Group (included only in the Plus version)!
I'll go into more on that later but I wanted to just give you a little look at the binder first.
A look inside……
Firstly, Designer in a Binder is actually a printable 50 page PDF, not a physical product. I actually love this because you can choose any type of three-ring binder you want to put it in and print it as many times as you desire.
I find this handy because I like my binders to look neat and sometimes my handwriting is not so good. So if you make any mistakes just print out that page again! Plus there is a section of the PDF that you will need over and over again for each room design.
When you purchase Designer in a Binder, it comes with an instructional video created by Tasha that you can watch to learn how to assemble the binder and how to use all of its components.
This also gives you a chance to get to know Tasha. You will want to watch that first as she gives great tips!
You may also like:
One of the sections I love is the budget planning worksheets.
Tasha gives you the tools for setting and using a budget for your project. With a budget planning worksheet and a professional quotes tracker, you will be able to set a reasonable budget and stick to it.
She even includes a seed money section so you can list things that you could possibly sell to add money to your budget.
You will also learn the failproof way to pick a color palette for your home and how to mix colors and patterns. I don't know why colors are always so hard to pick. I know for me, I know what I want but once I get to the store and see that there are 100 different "grays" it gets overwhelming.
Tasha teaches you how to plan out your colors and keep everything organized and together in the binder. She gives you the tools for staying organized long-term.
With the "design archives" worksheets, you will never forget what paint color or tile you used so touch-ups or repairs down the road will be a breeze. There is even a place to list warranties you may have gotten on your purchases. I would have never thought to do this but it makes total sense!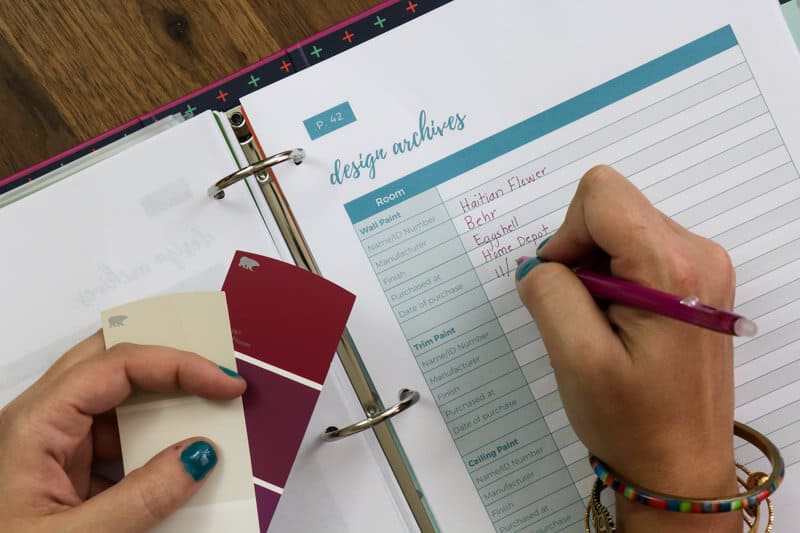 You will learn how to choose pieces that are the correct scale and the basics of space planning! This is an awesome skill to learn!
Have you ever been to the store to buy a piece of furniture which looked just the right size and once it got home took up your whole living room (I am talking from experience)?
Maybe you're a little better at planning and actually measured out your space, but you may still end up having questions once you get to the store and then have to make several visits to get it exactly right. Tasha eliminates all that for you by showing you exactly how to space plan.
Plus you will have everything you need in your binder with you at the store for reference.
THE REAL GOLD IN DESIGNER IN A BINDER!
What do I absolutely love about Designer in a Binder and think it is absolutely priceless?
It's the Private Facebook group that's included in the PLUS version which gives you access to Tasha herself! Let me just tell you from experience working with Tasha, she is awesome (I have bought courses from her in the past)!
To have access to her and a community of others just like you is priceless.
You want to grab Designer in a Binder now while it is on sale before the price goes up because this is an awesome value. If you've been following my blog for a while, you know that I don't like to spend money on just anything but this is a great investment for anyone that wants to transform their home.
Where else can you upload photos and ideas of your rooms and get free advice from a pro? The Facebook group is included in the Plus Package which is only a bit more than the regular version.
If you want to feel like you have a designer sitting beside you as you work your way through the design system then it's the way to go!
JUST TO RECAP…..The Designer in a Binder PLUS package includes the 50-page pdf plus access to a private Facebook group where you can:
Ask design questions
Upload photos of your room and ask for opinions on your design options
Get support from TASHA and other members
Join in design challenges to keep you motivated and accountable!
You can grab the basic binder or for just a little more you can get the Plus Package which if you're going to buy Designer in a Binder, I HIGHLY recommend you go with the plus package, it's really a no-brainer and at this price point, you cannot go wrong.
Upgrading to have access to Tasha and a community of other Designer in a Binder customers who are going through the same process as you??
Grab the basic or plus version here.
What do you think? Are you going to grab the binder, why or why not? I'll be posting some designs I end up doing in my own home using this and would love to see yours as well. If you grab it come back and let me know how you made out and how you like it!
This post may contain affiliate links. Read my disclosure policy here