This post may contain affiliate links, which means I'll receive a commission if you purchase through my links, at no extra cost to you. Read my full disclosure for more information.
How to Create a Home Inventory for Insurance Purposes
No one wants to think of the fact that their home could potentially get broken into, catch on fire, flood, or worse.
When events like this happen we are dealing with the aftermath and making sure everyone is safe. Who wants to think about dealing with the insurance company and trying to figure out what the heck you had in your house so you can put in an insurance claim?
Not me!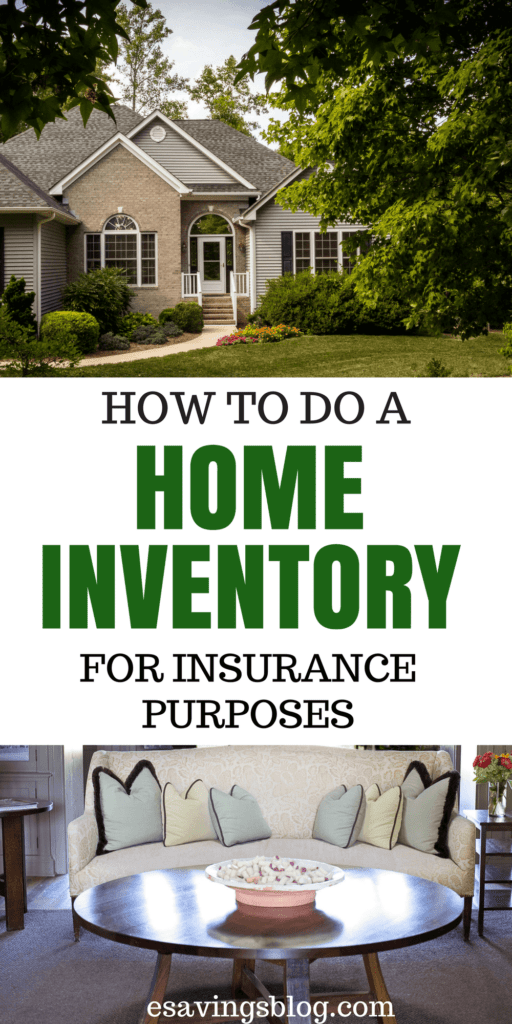 In the event of a fire or other disaster, would you even be able to remember all your possessions?
Obviously, the first concern would be everyone's safety and hopefully, everyone is safe! But once the dust settles you will have to think about replacing your possessions and putting in an insurance claim (home or renters etc).
Having an up-to-date home inventory will help you get your insurance claim settled faster, verify losses for your income tax return and help you purchase the correct amount of insurance before a disaster strikes.
It took me forever to finally take my home inventory and not only do I now have everything I need in case of a disaster but my paperwork is much more organized and I know where to find it in a hurry.
There are three ways you can easily create a home inventory for insurance purposes. I recommend implementing all three over time if you can but at least start with one.
HOW AND WHAT TO INVENTORY IN YOUR HOME
First, go over your insurance policy and have it out as you do your home inventory so you can refer to it if needed.
Be sure to check your homeowner's insurance policy for limits on single items and take out an insurance rider on expensive items if necessary (for example a rider for a wedding ring or coin collection).
You may also want to get a professional appraisal of such things as jewelry, artwork,  antiques, memorabilia, and other one-of-a-kind or hard-to-replace valuables so that you have something to show the insurance company and so you can make sure you have enough coverage.
For example, most standard homeowners insurance policies provide up to $1,500 in coverage for jewelry. If your wedding ring costs you more than that then you will want to get an insurance rider for it.
You may also like:
How I Saved Over $800 on my Homeowners Insurance
Pay Off Your Mortgage Faster With Two Simple Steps
What exactly is an insurance rider?
An Insurance rider provides additional coverage for things you own that are worth more than the per-item limit of your homeowners (or condo or renters) insurance policy. It can also provide protection for things that may not be covered at all by a standard policy.
You'll typically need to provide your insurance company with a recent receipt or a professional appraisal to add this insurance.
The best method when creating your home inventory is to go room by room to make it easier to cover everything. If you're super short on time and just want to get the most expensive items you can do that too for now. Once you have more time you can go back and add in the rest.
You may think you don't need to add your clothing, towels, sheets, etc but these items cost a pretty penny if you have to buy them all at once to replace!
You can do a quick count and just write 5 sheet sets, 10 towels, 4 coats, etc and take a quick picture of your closet if you can.
3 WAYS TO CREATE A HOME INVENTORY FOR INSURANCE
1. Record a Home Inventory Video
The easiest way to start is to just record a simple video walking around your home. It's less time-consuming and can be done today!
You want to make sure when recording that you get the make and model numbers of your expensive valuables so that your insurance company won't replace them with cheap imitations.
If you have a 50" Smart TV with all the bells and whistles and you can't prove the value of that TV most likely the insurance company will just give you enough for a basic replacement.
Where do you store that video?
Upload your video to cloud-based storage like Dropbox or Google Drive (both free) so that it's not just on your phone or in your camera. Having it in multiple places is best for easy accessibility.
2. Write it down on a Home Inventory Worksheet
When you have some more time you should record all your inventory in an inventory tracker. Keep a paper copy in a fireproof box or safe and a digital copy uploaded to Dropbox or Google Drive. I also recommend taking photos of your items to upload with the inventory tracker.
3. Use a Home Inventory App
There are many inventory apps out there, some paid some free. One free home inventory app that I use and recommend is Sortly.
Some insurance companies will also have their own apps and have a home inventory feature within it so you can check that out as well.
Just make sure the app you choose has been around a while and will still be around when you need it. I use the Sortly App as well as the first two methods mentioned just to be safe! Better safe than sorry right?
Quick Recap of Creating Your Home Inventory
Do your inventory using at least two of the options above (all three if you can).
Keep your receipts. If you hate paper clutter then just scan them in digitally with a document scanner and store them online in a couple places for safe keeping.
Have credit card statements showing purchases if possible or write down the month you bought them so you can request those statements if available if you don't have receipts.
Get appraisals for jewelry, certain collections, and antiques- I recommend keeping the original appraisal and a digital copy as well.
Fill out your Home Inventory Sheet (grab my freebie below) and upload it or put a copy in a bank deposit box for safekeeping or a fire and waterproof safe in your home.
No one wants to think about having to put in a claim or a disaster happening but they do so being prepared will help you be less stressed in hard times.
Create your home inventory this week and be prepared!
This post may contain affiliate links. Read my disclosure policy here