This post may contain affiliate links, which means I'll receive a commission if you purchase through my links, at no extra cost to you. Read my full disclosure for more information.
HOW TO GET PAID TO SHOP
Love to shop? Want to get paid to shop? If you're looking for flexible jobs that pay you to shop, then you've landed on the right page. Here are five legit ways you can get paid to shop!
1. Get Paid to Shop with Instacart
Have you heard of Instacart? Instacart is a service that fulfills grocery orders for customers and delivers them to their homes.
As a shopper, you can choose whether you just want to be an in-store shopper and shop the orders within a store OR if you want to shop and deliver orders as a full-service shopper.
As a full-service shopper, you will need access to a vehicle but you have the option of just shopping in the store as well which is excellent.
What I like is that they both are very flexible and allow you to choose your own hours. You get paid weekly and work as an independent contractor if you're a full-service shopper or an employee if you're an in-store shopper. To maximize earnings you will want to work peak days.
If this sounds like something you would want to do you can check them out here.
2. Get Paid to Shop with Shipt
Shipt is a membership-based grocery marketplace, enabling the delivery of fresh foods and household essentials.
According to their own website, experienced shoppers make an average of $22/hr. Paychecks are delivered every week and you can work part-time or full time – any time. You can also set your own hours for a completely flexible schedule.
Other requirements to work for Shipt are:
At least 18 years of age.
Valid U.S. driver's license and auto insurance.
A reliable vehicle, 1997 or newer.
Knowledge of produce selection.
Insulated cooler bags.
Ability to lift 25 pounds.
iPhone (iOS 10 or newer) or Android (5.1 or newer) smartphone.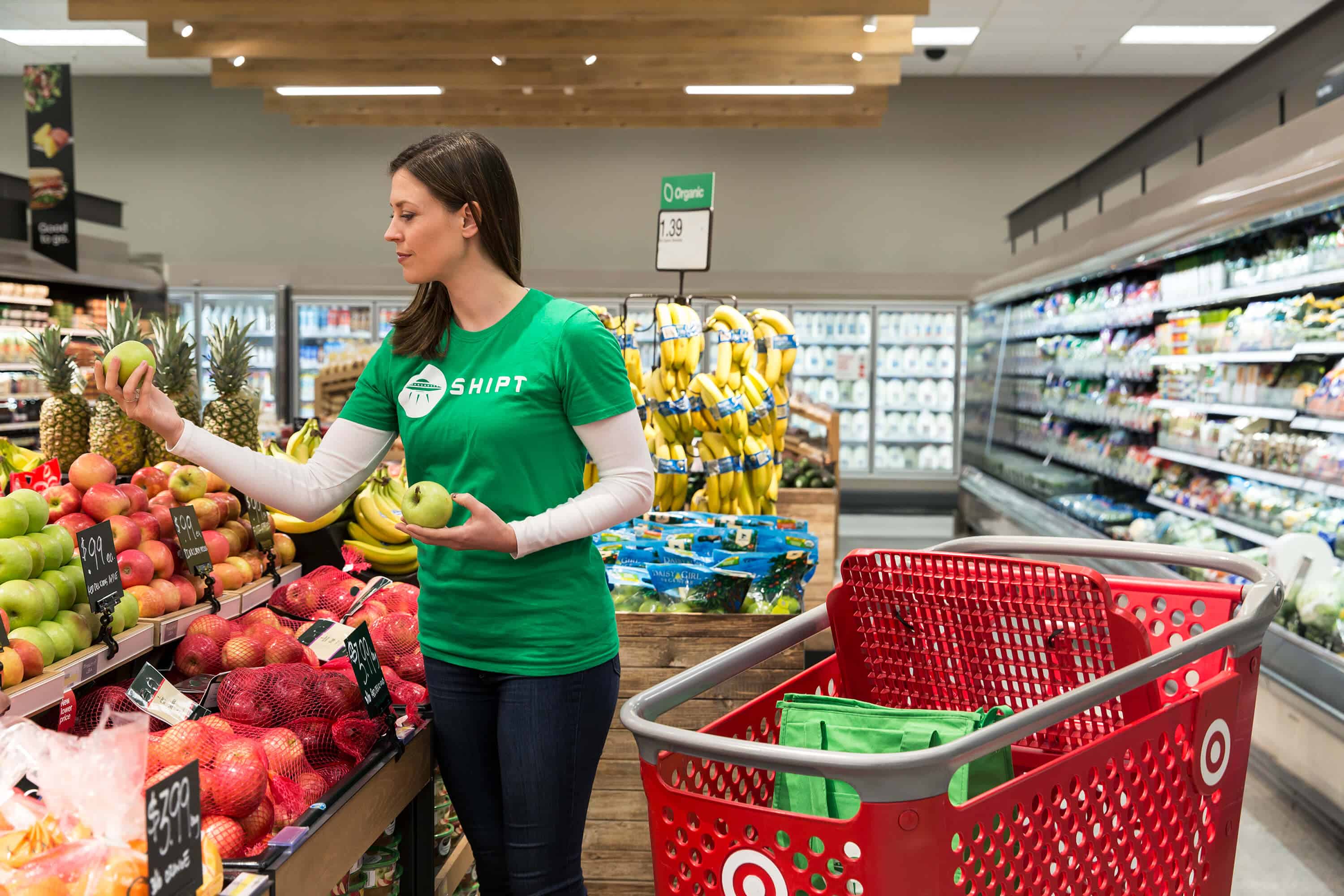 MORE MONEY MAKING IDEAS AND TIPS YOU'LL LOVE:
3. Mystery Shop and Get Paid to Shop for Yourself!
I've been mystery shopping on and off for years and love it. There are no certifications required and you should never have to pay to become a shopper with a legit site.
So what exactly is a mystery shopper?
A mystery shopper is a person who visits an establishment (typically a retail store, bank, restaurant, or other such places where the public does business) for the purpose of observing and measuring customer service, product quality, and the environment of the establishment in general.
Your job would be to follow all the guidelines set for the shop, get a receipt, and take pics or videos when needed all while usually remaining anonymous.
After the shop, you will usually be required to fill out a detailed report and upload all the needed documents and photos. You would need to have followed all of the directions or you won't get reimbursed. I have never had an issue but you definitely need to be detail-oriented.
You won't get rich off of mystery shopping but it's a nice way to get reimbursed for dinners, groceries, and services. I have gotten free oil changes, groceries, clothes, and nice gourmet dinners.
You can find legit Mystery Shopping companies over at www.mspa-americas.org.
NOTE: If it's too good to be true, it may be a scam! Beware of mystery shopping scams. No legit company will ask you to cash any type of check or wire any money anywhere.
Stick to companies that are members of MSPA and always verify any emails are coming from that company. I have worked with several of the same companies for a few years and I like to stick with them because I know they pay.
A $100 Dinner or free hotel stay is NOT too good to be true BUT a free trip to Italy or $500 to Wire $1000 to someone IS definitely a red flag. Mystery shopping companies also never pay you upfront so never take or cash a check to do your shop.
When in doubt always trust your gut and google the company and the word scam to see what comes up.
4. Get Paid to Shop with Postmates (UPDATE: Postmates Orders are now delivered by Uber Drivers)
Postmates was acquired by Uber so you can sign up to deliver for Postmates through Uber here. I'll update this one soon.
I just discovered this one. Right now Postmates is only available in certain cities at the moment but keeps expanding so you will want to keep checking the site.
According to the website, there are no fees or time commitments, so you take home 100% of what you earn every time you complete a delivery! With Postmates, it looks like you can shop for pretty much most things
According to its website, Postmates is the largest, most reliable on-demand delivery and pickup platform. They say they are able to deliver anything from anywhere, Postmates is the food delivery, grocery delivery, whatever-you-can-think-of delivery service to bring what customers crave right to their door.
They have more than 25,000+ partner merchants right now and they are adding more every day.
If you're interested in becoming a shopper you can sign up here.
5. Shop and ReSell Online!
If you love to bargain shop then this one is great. I personally do this one part-time and love it. I shop yard sales, thrift stores, end-of-season sales, and clearance and then flip the items for a profit. If you're entrepreneurial-minded and motivated then this could be the route for you.
I first learned how to do this from Rob and Melissa "The Flea Market Flippers". You can learn all about it in their Free 1 Hour Flipping Webinar here. I also interviewed them on the blog so you can check out that interview here.
What I love about this is it's something that can be done as little or as often as you want, so it's a great side hustle. I mainly sell my items on Poshmark and Mercari but they teach you how to sell on eBay and Facebook Marketplace as well.
If this sounds fun, go ahead and watch their free webinar here or explore the articles below:
Make Money Flipping: How One Family Flips Items for Profit
How One Woman Made Over $24,000 on Mercari
Selling on Poshmark (My Experience & Tips)
Like this article? Don't forget to PIN IT!
Did you like this list of ways to get paid to shop? Do you have any suggestions to add? Questions? Comments? Leave them below.
This post may contain affiliate links. Read my disclosure policy here