This post may contain affiliate links, which means I'll receive a commission if you purchase through my links, at no extra cost to you. Read my full disclosure for more information.
THE BEST FREE ONLINE COURSES FOR BLOGGERS
FREE SEO TRAINING!! Mike Pearson, creator of Stupid Simple SEO is offering Free Video Training where you can level up your SEO knowledge. Check out here.
Are you a blogger or trying to start a blog but don't know where to start or what blogging courses to take? Then you're going to love this HUGE list of free online courses! I also included free blogging ebooks, tools, and more.
I love taking courses, I am a bit of an online course junkie but sometimes it can get expensive. Although I do think you need to invest money at some point in blogging courses, free online courses for bloggers are a great way to get training on many topics!
They are also a great way to find teachers and mentors you love and can see yourself following for years to come.
Many of the courses on this list are taught by some of my favorite bloggers. I have taken a lot of their paid courses and loved them. When I found out they offered free courses I wanted to share them with you.
I tried my best to categorize the list into sections to help you look for the courses you need.
I'll be adding to this list often so make sure you bookmark or PIN this page.
FREE GENERAL BLOGGING COURSES
Enjoy this complimentary free blogging course, designed to help you get your feet wet with the basics of blogging! The instructor Allison Linstrom even goes over how to get a domain name and hosting as well as how to plan your content and use Pinterest to grow your blog.
This is a perfect free course for beginner bloggers to help you build a blog that can last and make you money. You can sign up here.
Want your blog to be sticky and have your readers coming back for more? Learn how to get more traffic with fewer posts. In this FREE 5-day email course, you'll get powerful science-backed writing strategies that will bring you more traffic with fewer posts. And they work for every niche. I loved this course so much I went on to take the full paid course afterward.
Grab the Free 5 Day Sticky Blogging Course here.
This is a 12 Month Blog Plan to Grow Your Blog to Thousands per Month! This Blog Plan was created by Suzi Whitford of Start A Mom Blog. I love anything that Suzi creates!
If you haven't already, check out Blog by Number and her other awesome courses. I highly recommend you do if you have the money to invest than her stuff is awesome and affordable.
But her Blog Plan is totally free! Grab it here!
This one is a free ebook created by Elite Blog Academy. It's packed with practical tips you can implement right away, this helpful mini-ebook will help you maximize the revenue you're earning from the audience you already have.
You can grab it here.
Want to learn how to work smarter, not harder? The Goal Setting Workbook for Bloggers is the perfect tool to help you take back your time by allowing you to clarify your purpose and prioritize what's really important.
Grab a free GOAL Setting Workbook for Bloggers here. 
Find out how to organize your blog so that your readers can always find exactly what they're looking for & become raving fans!
Grab it here.
FREE BLOGGER TECH COURSES
WordPress is the number one choice for bloggers. This simple tutorial will easily walk you through the steps of setting up a self-hosted WordPress blog all by yourself!
Grab it here.
Learn How to Navigate Self-Hosted WordPress. This is a crash course into the ins and outs of self-hosted WordPress. It was created by a super wonderful tech guy Grayson Bell who I use any tech issues that I can't or don't want to tackle myself.
Sign up here.
In this free WordPress course, you will learn to clearly maintain your site the right way. Everything from backups to security, you get it all.
Don't want to start a blog on WordPress? This guide will walk you through setting up a Squarespace Site in 5 Easy Steps!
Grab a copy here.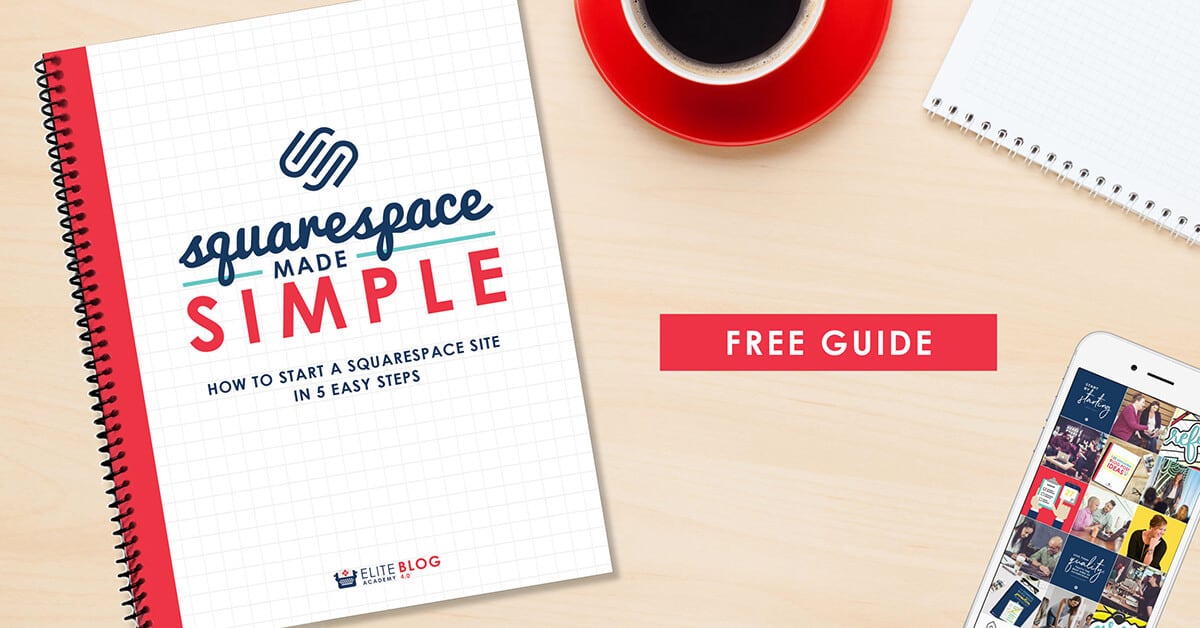 FREE ONLINE COURSES ABOUT GROWING BLOG TRAFFIC
This freebie is a list of 101 ideas to gain traffic to your website for free! Grab the list here.
This is a great freebie from Lena Gott of Adventures of Blogging.
FREE ONLINE PINTEREST & SOCIAL MEDIA COURSES & TOOLS
I LOVE this FREE PINTEREST COURSE: Turn Pinterest visitors into paying customers by creating your first (or next) sales funnel with Pinterest! ($97 value)!
A list of 780+ Pinterest group boards by niche to help you kickstart your Pinterest strategy! Download this FREE spreadsheet that includes the group board name, topics, rules, follower count, URL, how to apply, and any important notes regarding the group board. Grab the spreadsheet here.
This is a Free Live 3 Day Pinterest Challenge where you will learn how to create the perfect low-cost promoted pin. If you're wondering about promoted pins then definitely check out this course. Sign up here.
Pinterest for New Bloggers
Learn how to start with Pinterest the right way in this FREE EMAIL COURSE. Find out how you can leverage the power of Pinterest to increase your blog traffic.
Enroll in Pinterest for New Bloggers email course here.
I haven't taken this one yet but I did sign up and hope to get to it soon. If you're getting nowhere with your Facebook page you may want to sign up too.
This one is another one I signed up for but have only been through one lesson. This is not just a Facebook course it goes through creating a Shopify store as well that is why I found it interesting. Learn How To Create An Online Store And Super-Charge Your Traffic And Sales With Facebook Advertising Strategies.
Sign up here.
FREE SEO COURSES & TOOLS
You NEED this course! SEO is essential to your websites success.
This free training is done by Mike Pearson creator of Stupid Simple SEO (love this course). Level up your SEO knowledge in just 60 minutes with this FREE 6-day video training!
Sign up here.
BLOG DESIGN AND GRAPHICS COURSES AND TOOLS
3 Days of Learning Design and Free Access to Canva Templates That Will Get You There! I LOVED this course! Kara of Simplifying DIY shows you how to create easy graphics AND gives you templates you can use for your own blog!
I loved it so much I went on to buy The Complete Bloggers Template Toolkit which gives you Every Template You'll Need To Grow and Monetize Your Blog! The Pinterest graphics for this post was created using her templates!
Grab the Free Design course here.
This is another awesome course from Kara! This course is designed to give you an overview of some of the things you can do to get started in Canva. It includes a walkthrough of Canva, how to create lines and charts, how to design text for your digital projects, setting up templates for yourself or to sell, and using design elements to step up your designs. I thought I knew Canva but still learned so much from this course.
Sign up for Canva 101 here.
Good branding and blog design are critical to a blogger's success. Find out how to brand and design your blog so that you tell your audience exactly WHO you are as an entrepreneur and a company! It's a game changer, and right now you can get it absolutely free.
This free eBook includes 20+ Blog Design Recipes to help you Pick The Design You Love & Learn What You Need To Make It Your Own.
This is another free course from Suzi Whitford of Blog by Number. She helps you Grow Your Traffic with Beautiful Images Created in PicMonkey. She teaches you Easy and Quick Tips to Use PicMonkey to Create Beautiful Images for your blog.
Canva.com
Canva is a great tool for creating images and logos for your blog and social media. Plus you can learn how to use it right in the courses I mentioned above!
Befunky.com
Befunky.com is a Photo Editing & Graphic Design Software. I have not used it yet but it looks really good.
Creative Market is a great place to get free fonts, graphics, videos and all kinds of design goodies. You definitely want to sign up to get free goodies each week emailed to you!
FREE EMAIL AND LIST BUILDING COURSES
100 Opt-In Offer Ideas
I love this freebie from Laura of I Heart Planners! She shares 100 of her favorite opt-in offer ideas that helped her grow her list from 0 to 60k!
Download a copy of 100 Opt-In Offer Ideas now. Grab it here.
List Building Pep Talk: 3 Steps to Your First 1,000 Subscribers
In this free workshop, you'll learn:
The 3 things creators do to grow the right email list + earn a living online
An actionable list building plan you can start implementing today
A step-by-step tutorial to get your list building system set up in 24-hours
This workshop is from the creators of ConverKit. I use and love ConvertKit for email marketing. Sign up free here.
Email Welcome Sequence Swipe File
Get free access to a SWIPE FILE for writing the PERFECT EMAIL WELCOME SEQUENCE in under 20 minutes! Monica from Redefining mom is providing the copy and an instructional video for FREE because she wants to show you how easy it is to start growing a loyal following.
Grab her swipe files here.
THE LEGAL SIDE OF BLOGGING
LEGALLY BLOGS- Legal Course for Bloggers
Learn how to protect your blog legally and how to meet all the legal requirements in this FREE LEGAL COURSE FOR BLOGGERS.
Get signed up for this valuable FREE LEGAL COURSE here.
MAKING MONEY WITH YOUR BLOG
Want to work with brands? Learn how to pitch them with this free cheat sheet. I am in Jenny's Pitch Perfect Pro eCourse and she is awesome! If you're interested in getting in on her paid course you can find out more here. To get the free Pitch Perfect Cheat Sheet go here.
Everything you need to know to get started with affiliate marketing! and earn more with the blog traffic you already have! Grab it here.
WRITE BETTER CONTENT
Grammarly has made me a better writer! I still use the free version but they do have a paid version that checks more things. It's a great way to check your grammar on your posts. Check it out here.
The Hemingway Editor
Hemingwayapp.com highlights lengthy, complex sentences and common errors in your writing. It's another great tool.
I thought this was pretty cool to try and generate content ideas and titles for blog posts.
Analyze your headlines to see if they need improvement.
I am going to keep adding more free online courses for bloggers to this list so make sure to bookmark this page and remember to PIN IT for later! With all these courses you will need to stay organized! I recommend only starting a couple at a time.
To help you I created this FREE BLOG COURSE Planner printable (sign up below)! Grab it and start learning!
Questions? Comments? Are you looking for a course that isn't listed? Ask in the comments!
Subscribe to the Newsletter!
Subscribe to my Blogger Newsletter to receive blogging tips and subscriber freebies & also get access to this FREE BLOG COURSE PLANNER Printable!
Disclosure: Privacy Policy
This post may contain affiliate links. Read my disclosure policy here