This post may contain affiliate links, which means I'll receive a commission if you purchase through my links, at no extra cost to you. Read my full disclosure for more information.
Looking to find free craft classes online? I found a few awesome websites that offer free online craft classes as well as many other classes that I think you'll love.
I love to take courses/classes and I take a lot of them each and every year. A great way to take a lot of them is to find free ones. If you love crafting and creative classes then you're in luck because you can find lots of free craft classes online in a matter of minutes and I'll show you exactly how to find them.
I'm talking about free classes in categories such as paper crafts, knitting, sewing, crocheting, and many more.
So let's get into where to find free craft classes and how to access them.
FREE CRAFT CLASSES ONLINE
Creativebug Craft Classes
Creativebug is a great site that offers free craft classes as well as paid ones.
There is no need to create an account with Creativebug just go to their homepage here.
Then search "FREE" into the search bar at the top of the page.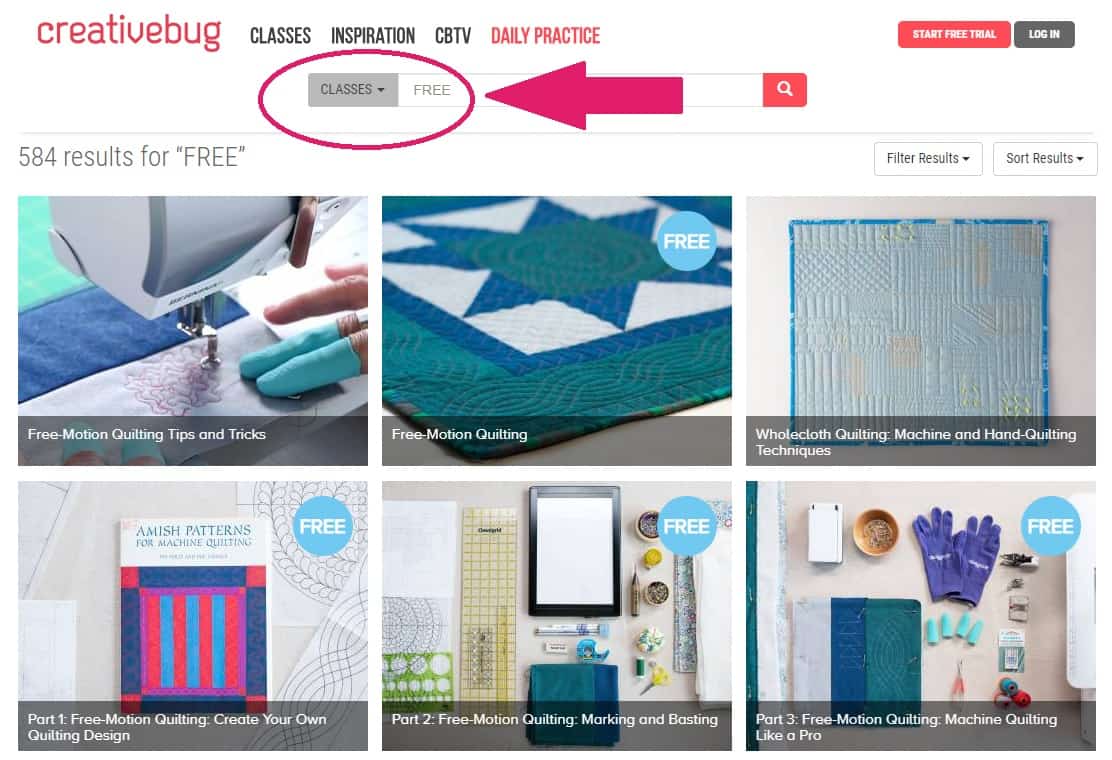 Scroll through and view the free craft classes and find one you like. Free classes are clearly marked as seen in the picture above.
I found this really cool one on making a gigantic cable knit scarf. I was able to start watching it right away and I will definitely be trying to make one for next fall.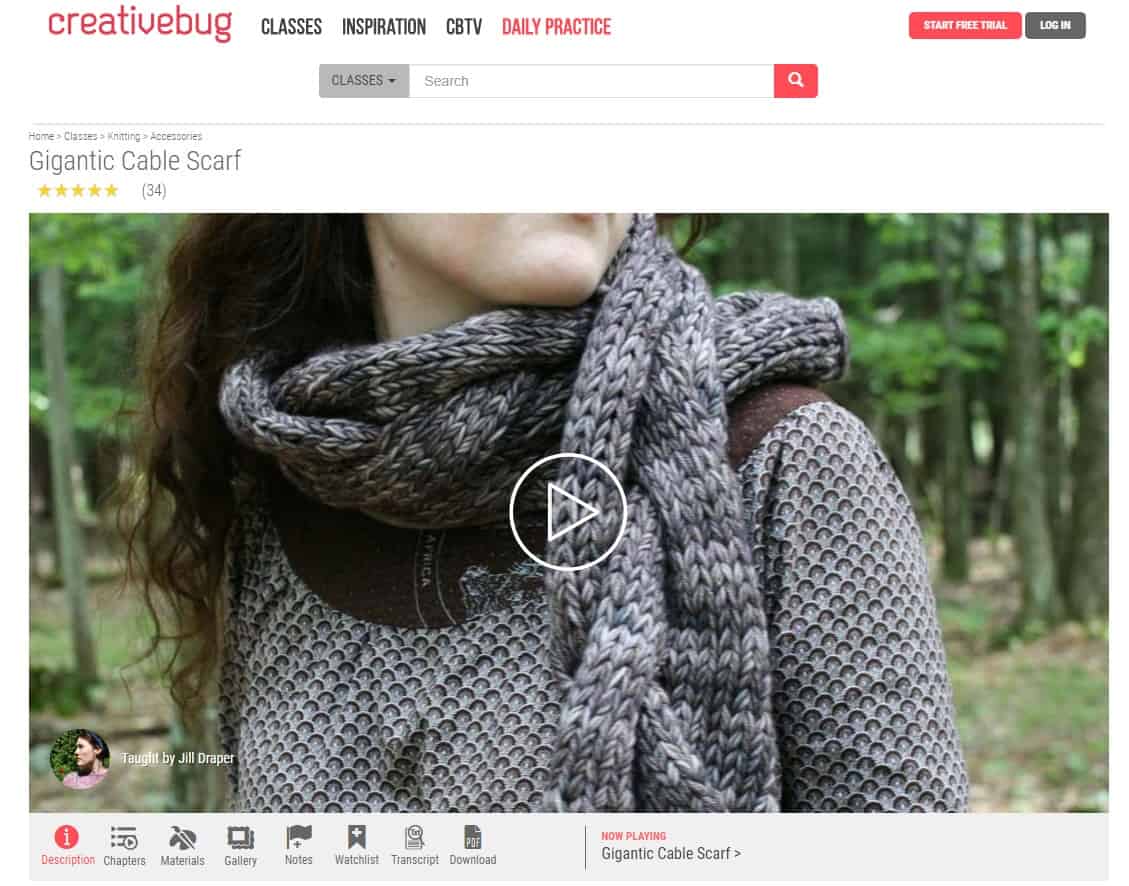 If you're interested in taking some of their more in-depth paid classes, you can do a 30 Day Free Trial by clicking on the trial button on the top of the page.
Skillshare Craft Classes
Skillshare is an online learning community for creatives. Skillshare is a great site to learn almost anything on topics including illustration, design, photography, video, freelancing, and of course crafts.
To get the free courses you do need to sign up for an account here. After creating a username and password it will ask you to sign up for a plan but you don't have to right now. Just click away from that screen to the main page and start browsing.
Search "Crafts" in the search bar, and then go to where it says filter and click on "free".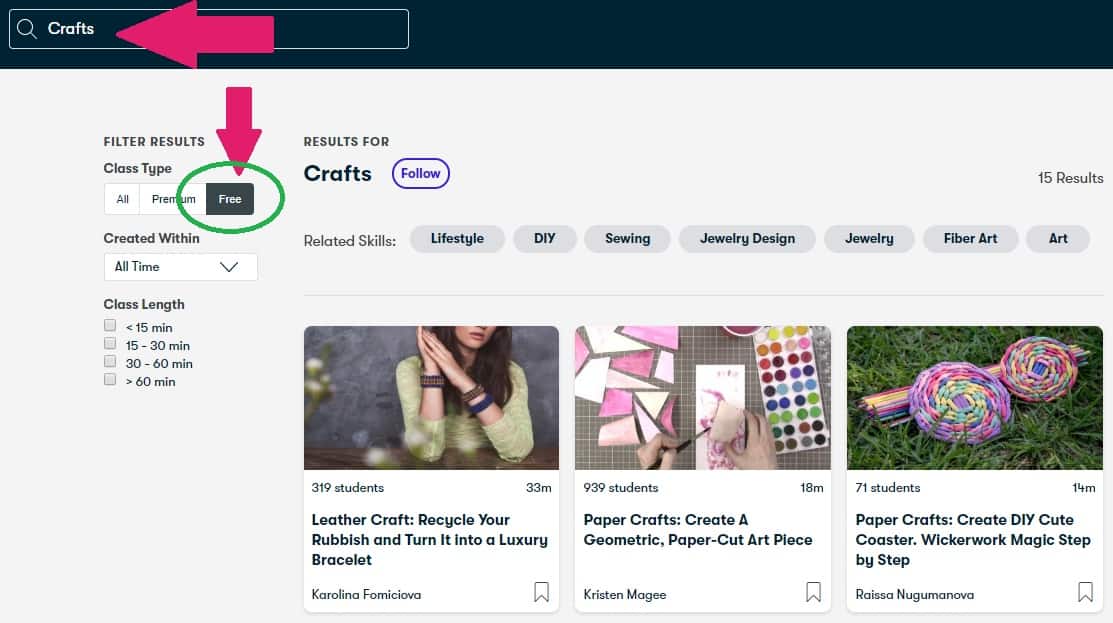 You will then see all the free craft classes they offer. They also offer some really great paid courses you may want to check out with their premium service.
At the time I am writing this article, Skillshare is offering 2 free months of their premium service so if you want to grab that now is the time but if not, just go to the main page after creating your username and password like I mentioned above and explore the free classes.
Bluprint Craft Classes
UPDATE: Looks like Bluprint is going out of business :(.
Another site I recommend looking into free craft courses is on a website called Bluprint.
Bluprint is an awesome site for all things crafts, cooking, and more so you can explore and find anything that interests you. They offer a ton of affordable classes on so many crafts but they also have completely free courses you can take as well and that's what I will show you how to find below.
To access any of the courses you will need to sign up for an account here. The account itself is free to create. Once you create it you will be able to search for free and paid classes.
To find free craft courses, search "FREE" at the top of the page and hit ENTER.
After you hit enter you will get a list of classes but you will still need to filter them further. When the results come up, click the drop-down arrow next to "sort by" and choose "Price: Low to High".
You will get pages of free courses (they will say free under the course name) to choose from.
One that I found and I thought looked kind of cool was a sock knitting course. The class is free but you also have the option to buy the kit for the class as well at an affordable price.
Once you try a few of their free craft classes you may decide you want to subscribe to get more classes and a discount on the kits if you choose to purchase them.
This is optional but you can also try out some of their paid classes with a free 7-day trial. At the time of writing this article, Bluprint was also offering 50% off the annual plan which I think is a steal at $39.99 versus $7.99 a month if you love them and decide to become a member.
But like I mentioned above the account is free and you can just take the free classes or choose to purchase one-off courses versus a membership, it's up to you but I wanted to let you know your options.
Questions? Comments? Leave them below! Let me know which sites you signed up with and what classes you're taking. I love to hear from you!
MISSED ANY PART OF THE FREE STUFF SERIES? CHECK IT OUT BELOW:
Need help with budgeting and saving money? Join my email list below and get money-making and saving tips, promotions, and exclusive freebies sent right to your inbox. Sign up below!
This post may contain affiliate links. Read my disclosure policy here