This post may contain affiliate links, which means I'll receive a commission if you purchase through my links, at no extra cost to you. Read my full disclosure for more information.
Dosh App Review
There are hundreds of apps today that promise to make you money in ways that are too good to be true. But is Dosh one of them?
The Dosh App is a card-linked program that allows you to earn cashback as you shop. Sounds easy enough, but does it live up to the hype?
My Dosh app review will give the insight you need to figure out whether Dosh is a solid cashback option for you. From Double-Dip Rewards to cash-out options, I'll try and cover it all.
Is Dosh App Legit?
Dosh App functions like any other cashback program — you shop and receive rewards. But since there are so many scams out there, it's understandable if you're wary of yet another sweet-sounding offer.
The good news is that Dosh is a legit business and has a BBB rating of A+. The not-so-good news is that not everyone is happy with Dosh.
Their reviews on BBB aren't great. But what I appreciate is that Dosh does take the time to address consumer concerns, something that not all companies do. When I've reached out via email ([email protected]), they're responsive and pretty pleasant to deal with.
Plus, considering that Dosh's apps are highly-reviewed at nearly five stars, they're doing something right!
How Does Dosh App Work?
Dosh App gives you cash back at select stores or venues. What's unique about the app is that it tracks your spending based on your debit or credit card. You don't have to scan receipts, type in codes, or check back at all — until it's time to cash out.
With Dosh, you can earn up to 10% back on store purchases and services, and it all adds up. But one of my favorite things about the Dosh App is receiving up to 40% cashback on hotel stays. Travel can get expensive, so it's awesome to have this built-in discount wherever you go.
Download & Link Up
To get started, you download the Dosh app on your smartphone. Dosh will ask for your email, the phone number to verify, and then connect a debit or credit card. You can link as many cards as you like, as there is no limit.
Currently, Dosh is compatible with Mastercard, Amex, and Visa. Dosh does not accept Discover cards at the moment. But you can also connect other banking information like Venmo or Jelli.
But before you worry about compromising your financial info, consider this: Dosh uses Braintree (it's a PayPal service) to protect your details. Braintree is a "banking vault," and your card and account numbers are stored via a "highly secure tokenization and vaulting" system. But more on that later!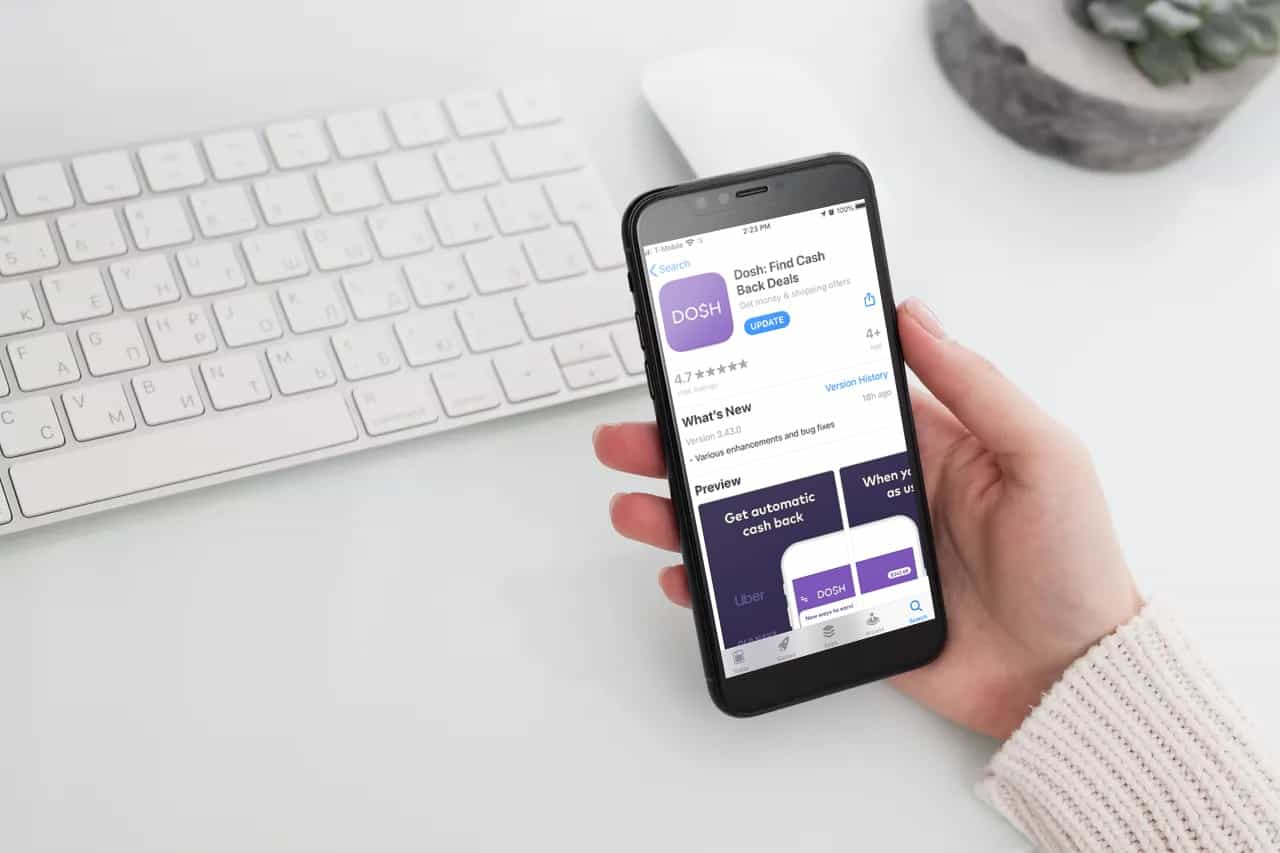 Start Shopping
After signing up and plugging in, you're exposed to hundreds of retailers and services that are willing to give you cash back just for shopping there. Online shopping also receives cashback, sometimes more than brick-and-mortar retailers.
All transactions are automatic, so no receipts or coupons necessary. You can continue racking up rewards with regular shopping trips, but there are additional perks, too.
Every week there are new offers available to splurge. If you allow location services, you can see which offers are available in your area.
Dosh has teamed up with over 100,000 retailers and services, including popular retailers such as Walmart and Costco. Services include Apple and Disney Plus, with restaurants like Pizza Hut, Dunkin', and more.
More than likely, places you shop at are already on the Dosh app. But you might find some new favorites by scrolling through their list of partners.
Once you rack up the rewards, you can cash out the cashback or even donate your rewards to charity.
Is THE

Dosh App Safe?
One of the things I love about the Dosh app is that it doesn't store card or account information. All of my data is tokenized and secured using Braintree, one of the most trusted payment transaction services to-date (according to their website).
Two-factor authentication prevents unauthorized logins, and all transactions are SSL-encrypted, secured with 256-bit encryption.
How Much Can You Make From THE

Dosh App?
The rewards are endless on Dosh. The more you shop, the more you're rewarded. If you already frequently shop using a credit or debit card with cashback and use the Dosh app, that's double the rewards.
If you're a frequent shopper, restaurateur, or traveler, the rewards can add up hundreds per year.
The Dosh app does have a $25 minimum cashout requirement, but there are no expiration dates on your earnings.
One complaint I have is that Dosh does wait 60 to 90 days to credit your account. It makes sense, though — the rules are in place to prevent people from buying a ton of stuff, then returning it and keeping the cashback rewards.
Ready to start earning? There are five ways to make money from Dosh app:
Earn a sign-up $5 bonus by linking your card
Receive cashback for online shopping
In-store shopping rewards, with no scanning or receipts involved
Travel cashback with hotel rewards on thousands of hotels around the world
Refer friends and businesses through your referral code once they link a card
How Does Dosh Make Money?
Essentially, Dosh makes money through affiliate marketing. They're promoting a brand or service (by offering you an incentive to shop there) and receive a commission. Then, they split that commission with their subscribers.
Dosh likes to explain it this way: brands choose to invest in cash back programs with Dosh, rather than running costly advertisements. The result is the same — you still buy from brands you love or want to test out — but the cash winds up in your pocket instead of advertisers'.
Pros and Cons of THE Dosh App
Like most apps, there are pros and cons, and my Dosh app review will cover both sides.
Pros of THE Dosh

APP
Automatic Transactions
I love that transactions are automatic, everything is linked up, and there are no codes, coupons, or scanning to deal with.
Link Popular Bank Cards
Dosh accepts a long list of credit and bank cards, but you have other flexible options for payment (Venmo, anyone?).
Easy to Use
Signing up with Dosh is simple, and there's nothing to keep track of and no complicated account processes.
Solid Cashout Options
It's easy to receive your cash, either through PayPal, Venmo, or a linked bank account.
Lots of Vendors
Dosh has thousands of partners to do business with, including popular stores and services you probably already use.
Great for Travel
You can get competitive rates and discounts of up to 40 percent (in the form of cash back) on stays at over 600,000 hotels. The app makes it simple to find places to stay and guarantee your rewards.
No Start-Up Costs
There's no cost to joining Dosh. Download and go!
Several Different Ways to Earn Money
There isn't one way to earn cash, as you can receive rewards through online shopping, in-store retailers, hotels, referring family and friends, and possibly more options in the future!
Secure
Dosh is secure, and they're up-front about what services they use to protect your information.
Cons of THE Dosh App
No Discover Card Option—Yet!
Unfortunately, Discover card users cannot take advantage of Dosh's perks.
Can't Change Hotel Bookings or Receive Elite Benefits
There's a slight catch to using Dosh for its hotel perks, as you cannot alter the date once it's booked. Also, if you're a rewards member of a particular hotel, you will not receive your elite benefits because you're booking through a 3rd party app. This is one to definitely keep in mind.
Double Dipping Isn't Guaranteed
Some cashback platforms let you double-dip, but Dosh's terms of service specify that if your debit or credit card already receives 'third-party card-linked offer programs,' you "may not be able to link" to Dosh.
Basically, this means you're not guaranteed to be able to pair your rewards credit card with Dosh offers.
Long Time to Clear Transactions
It may take up to 60 to 90 days for the transactions to clear on Dosh, while other services are often faster at getting your rewards to you.
Dosh App Tips
Dosh can provide ample rewards if used right. Here are some tips to maximize your rewards to receive as much cash as possible!
Use All of Your Options
With Dosh, you have several options to make money. For instance, shopping online is convenient and does provide substantial rewards. However, if you see in-store offers higher than online shopping, it may be a better option to shop in-store.
Rotating promotions help you earn higher cash back amounts, and you can also refer friends and family for even more perks.
Read the Terms
Some offers may have limits or spending requirements, so like with any other couponing or rewards app, reading the terms is essential.
Compare Hotel Rates
The cashback for hotels is amongst the best in the business, but the rates themselves may not always be the lowest. Do your research and compare rates, just like you normally would, to secure the best offer.
Who is the Dosh App For?
While Dosh is an excellent rewards program for many consumers, it may not be the best fit for everyone.
Who Should Use the Dosh App?
Bargain Shoppers
There is nothing like looking for a bargain, and with Dosh, everything is right there at your fingertips.
Frequent Shoppers
If Dosh supports special offers with the places you already shop, that's money in your pocket with zero effort.
Busy Bodies
Dosh is a set-and-forget app, and it's easy for busy individuals to manage without having to track anything, as Dosh handles the calculations for you.
Travel Enthusiasts
If you love traveling, more than likely, you have a credit card with hotel and travel perks. These cards also benefit from using Dosh, especially with the hotel cashback rewards.
Who Shouldn't Use the Dosh App?
Cash Only Individuals
Cash is king for some people, and they are not good candidates for using Dosh because you need a card. So if you're using the cash envelope system then this app may not be for you.
Debit Card Spenders
When using local offers, you must run the debit card as credit to receive the Dosh rewards since using a PIN bypasses Dosh's scanning capabilities.
How to Get Started with THE Dosh App
If you're interested in joining this rewards program after reading this Dosh app review, it's time to get started!
Sign up by downloading in the Apple store or Google Play.
Verify your email and phone number.
Choose payment options: Paypal, Venmo, or bank account
Start shopping and refer friends and family
Dosh App Alternatives
Not impressed with the Dosh App? Here are some alternatives that may be more appealing to you.
Rakuten
Rakuten offers discounts on tons of brands, and they've been in the industry (as Ebates) for a lot longer — plus their cashout limit is far lower.
Swagbucks
Swagbucks is one of the most trusted platforms for making money through surveys, watching videos, and doing just about anything.
Fluz
The Fluz app allows you to buy gift cards on the fly when checking out at stores or whenever you like and get cash back for the purchase. Plus if you sign up using my referral link here, you get 3 vouchers for up to 35% off your first three gift cards. You can also check out my full Fluz review.
This post may contain affiliate links. Read my disclosure policy here