This post may contain affiliate links, which means I'll receive a commission if you purchase through my links, at no extra cost to you. Read my full disclosure for more information.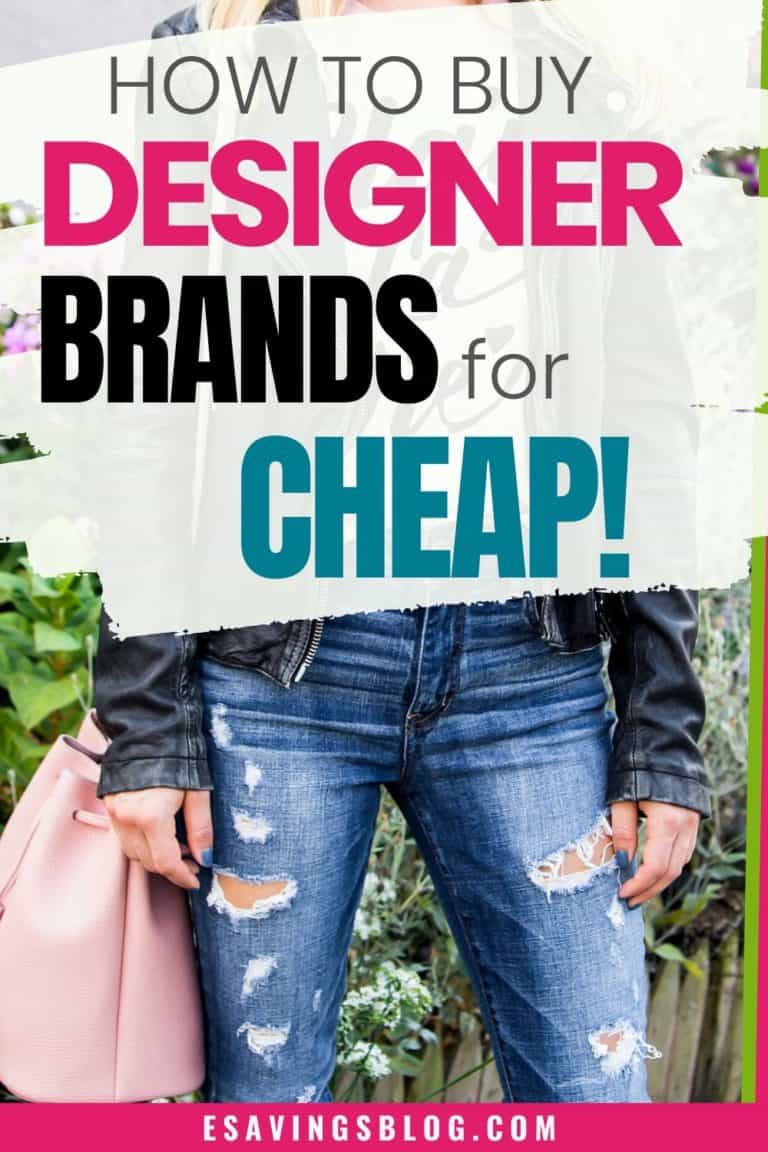 Do you have a few people on your gift list that would really love a Michael Kors purse or maybe a pair of fancy designer shoes? Are you looking for ways to buy real designer brands for less for yourself or as gifts?
I personally try to avoid paying full price for anything especially when it comes to designer brands, but since I have lots of friends and family members who love designer handbags and clothes, I am always on the hunt to find the best ways to get the affordable designer items.
From Michael Kors, The North Face, Coach, and Kate Spade I was looking for ways I could cut costs when buying designer gifts and I found a few that saved me hundreds!
UPDATE: You may want to check out my latest article on 10 Ways to Get Discount Designer Clothing!
How to Buy Designer Brands for Cheap
Over the years I have been able to grab some really great deals on designer brands by shopping through designer discount sites, and if I wasn't able to find what I wanted there, I used a few other money-saving strategies, that I will share with you, to get discounts on designer brand items.
1. Designer discount websites
One of my favorite sites for discounted designer brands is called 6PM, they always have sales on brand name clothes and more, I was able to get some really nice Bearpaw boots, a North Face sweater, and some cute sneakers at deep discounts through 6PM. They run sales all the time and if you keep an eye out you can score some great deals.
Other sites like Rue La La, Beyond the Rack, and Zulily give you member-only pricing on desired brands. Plus the best part is that they are free to join and take just a minute to sign up!
You may even get free credits to shop. Their sales run for limited time periods and can sell out fast so you will want to get signed up and get notified when certain brands are on sale.
Another site you can score some great designer brand deals on is Groupon! They have some hot deals on designer sunglasses and more. Keep an eye out and sign up for their emails or download their app to stay up to date on their sales.
2. The PoshMark App!
Poshmark is the leading fashion destination where people come together to buy and sell clothing and accessories from each other. I discovered this great app when I wanted to sell some items out of my closet and make a little extra cash.
Check out Poshmark and get a $5 CREDIT by using my Referral Code: BYXWR
I discovered that not only can you buy some great gently used items but you can also buy brand new boutique items at a fraction of the cost of where you get them elsewhere!
I like Poshmark because the sellers on it are really professional and it's a great community to buy and sell items! Shipping is reasonable and you can bundle items with some sellers to reduce the cost of shipping multiple items.
Do you have items in your closet you want to sell in order to buy new ones? Check out how I was able to $341 selling on Poshmark.
3. Discounted gift cards
Can't find what you want on the sites mentioned or don't want to wait for a sale? I've been able to use sites like Raise and Gift Card Granny to buy discounted gift cards to my favorite stores that sell the products I was looking for.
I also use this site to buy discounted gift cards to do my regular shopping because anything I can save upfront before sales and coupons is just extra savings.
You can grab $5 off already discounted gift cards by using my referral link here.
4. Cashback websites
Another one of my favorite ways to save on almost everything is to go through a cashback website like Ebates or TopCashBack to get money back on my purchases.
You can use these cashback websites along with discounted gift cards and store sales to save the most amount of money!
5. Get on the list for coupons and discounts
Do you want to get coupons for brands you love? Go to the brand's website and sign up for their email newsletter! Often times they will email you a one-time discount to use right away. They will also email you when there are special sales and give you email subscriber-only discounts.
6. Leave it in your cart!
Have you ever visited a merchant's website and added something to your cart but then didn't go through with the purchase? You may have noticed that a day or so later you got an email from the merchant telling you that you forgot something in your cart?
Yes, they're watching, a little creepy but it can be a good thing because most of those emails will include a discount if you finish your purchase within a certain period of time.
I've also been to websites which on my way to exit the site I get a pop up saying they will give me a discount if I purchase now. So give it a try, there's nothing to lose :-).
Do you have any secrets to saving on designer brands? Share them in the comments below. Know someone who would benefit from these tips? Share this article with them.
This post may contain affiliate links. Read my disclosure policy here