This post may contain affiliate links, which means I'll receive a commission if you purchase through my links, at no extra cost to you. Read my full disclosure for more information.
Dave Ramsey's 7 Baby Steps Explained
You've probably stumbled upon the concept of Dave Ramsey's 7 Baby Steps when researching paying off debt or other money-related topics. But you aren't exactly sure what the baby steps are or why they're so popular.
Well, let me explain the baby steps one by one.
The 7 Baby Steps created by Dave Ramsey are the steps it takes to save for emergencies, pay off all debt and build wealth for you and your family.
The best part? Dave Ramsey's Baby Steps actually work if you do them.
There are thousands of people who have used the baby steps to pay off a ton of debt and build wealth and they're people just like you and me.
You can hear story after story on the Dave Ramsey podcast and on The Dave Ramsey Show Youtube channel.
WHAT ARE THE DAVE RAMSEY'S 7 BABY STEPS
BABY STEP 1: $1000 Emergency Fund
Baby Step 1 is to save up $1000 in a savings account as a starter emergency fund.
Check out How to Build Your Emergency Fund Fast for help with this step.
You want your emergency fund to be available quickly in case of an emergency. Put it into an easy to access savings account but keep it out of your checking account so that you don't spend it.
$1000 is a good start so that when you get to baby step 2 you won't be scared to throw all your extra money into paying off your debt.
BABY STEP 2: Pay off Debt
In Baby Step 2 you're going to pay off all your debt (except your mortgage) using the debt snowball method.
The debt snowball method is where you list all of your debts from smallest balance to largest and start tackling them one by one. You'll put all your extra money on the smallest balance and only pay the minimum on the rest until that one is paid off. Once that one is paid off you'll move to the next one and so on.
This is the step that most people spend the most time on. It's also the most important step in my opinion. When you no longer have debt you can do so many things with your money.
I have multiple articles that can help you with this step. Check out these popular ones below:
BABY STEP 3: Fully Funded Emergency Fund
Baby Step 3 is to set up a fully-funded emergency fund. This means you should save 3 to 6 months of expenses for emergencies.
With no more money going towards debt (because you finished baby step 2, congrats!) it shouldn't take you too long to fully fund it.
BABY STEP 4: Invest in Retirement
Baby Step 4 is to start investing in retirement. Dave Ramsey recommends you invest 15% of your household income in retirement.
If you have a company match in your 401K that will be the best way to get close to your 15%. You'll want to contribute as much as they match and then he recommends contributing to a ROTH IRA for the rest.
If you want to learn more about how to save for retirement I recommend checking out these retirement books.
BABY STEP 5: Save for Your Children's College Fund
Baby Step 5 is to save for your child's education (if you have children). This can be done along with investing for retirement so anything over the 15% retirement investing can go here.
If you're starting these baby steps at the point where your child is already nearing college I highly recommend you check out The Scholarship System.
Scholarships are a great way to get money for college and are easier than you think to get.
You should also check out my blog post: Is a Debt-Free Degree Really Possible?
BABY STEP 6: Pay off Your House
Baby Step 6 is to pay off your home early! Remember how great you felt paying off all your debt in baby step 2? Paying off your mortgage is going to feel so much better!
Imagine not having a house payment?
At this point, you'll want to do what you can to get your house paid off fast. Check out my article Pay off Your Mortgage Faster With 2 Simple Steps.
BABY STEP 7: Build Wealth and Give
Baby Step 7 is to build wealth and give! As Dave Ramsey says " You know what people with no debt can do? Anything they want!".
With all your debt paid off, an emergency fund in place, college money saved and the house paid off you can pretty much do anything with your money.
You can be generous and give to your favorite charities and you can leave an inheritance for your kids.
This is the end goal! You may think it's impossible right now but you can definitely get there just stay focused!
That is the 7 Baby Steps broken down for you. While it is easy to read them I know it's not as easy to implement them.
I highly recommend you stay motivated while doing these steps by reading The Total Money Makeover, listening to the Dave Ramsey Podcast and reading my blog where I share practical money-saving and money-making tips anyone can follow!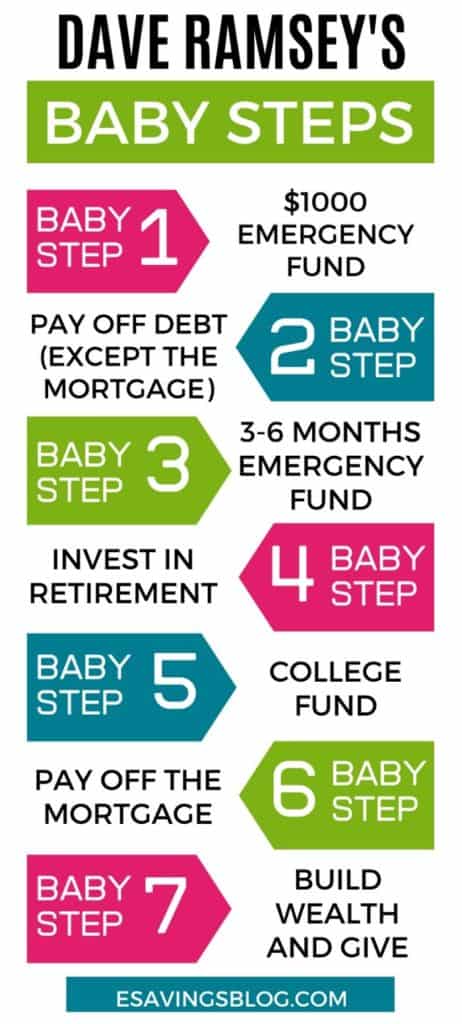 So what do you think? Are you going to start the Dave Ramsey Baby Steps? Let me know in the comments below!
This post may contain affiliate links. Read my disclosure policy here