This post may contain affiliate links, which means I'll receive a commission if you purchase through my links, at no extra cost to you. Read my full disclosure for more information.
Business Ideas With Low Investment
Are you looking for home business ideas with low investment? If you've been dreaming of starting a business with low investment than a home-based business is a perfect solution.
There are MANY legit businesses ideas with low investment and high profit!
FREE RESOURCES:
Home businesses usually require lower overhead and little start-up costs because you don't have to rent, buy or lease out an office space. Most require just a laptop and high-speed internet connection and those that don't can be started with just a small amount of inventory.
Many of us have dreams of starting our own business or working from home but sometimes it can get overwhelming trying to think of how and where to start. What skills do we need and how do we get them? Where can we get help starting up?
Think you don't have the skills it takes to start a business or don't know which business to start? Well, I definitely know the feeling and over the years I have tried many online businesses and researched many for others.
In my research, I have come across some great people who have started and are very successful in running their home businesses and I want to share them with you.
I'll also share my favorite resources for getting training to learn the skills you need to start a business in each particular niche. You don't need to know everything right now, you just need an idea and a plan to get going.
Like this article? PIN IT!
Business Ideas with Low Start-Up Costs
Start a Bookkeeping Business
Did you know that Bookkeeping was one of The 15 Most Profitable Small-Business Industries in 2016 according to Entrepreneur.com? Yup! And a Bookkeeping business has very low startup costs.
Think you will make a good bookkeeper but don't know where to start or what training and skills you would need?
If you want to learn more about what it takes to become a bookkeeper and run your own business, I recommend this FREE Course: How to Start Your Own Virtual Bookkeeping Business.
Robin Buckallew the creator of 60 DayBookkeeper goes over everything you need to know about starting a Bookkeeping business in this free course. She goes over what skills, equipment, and software you need. She also breaks down some of the costs with you in an easy-to-understand video format.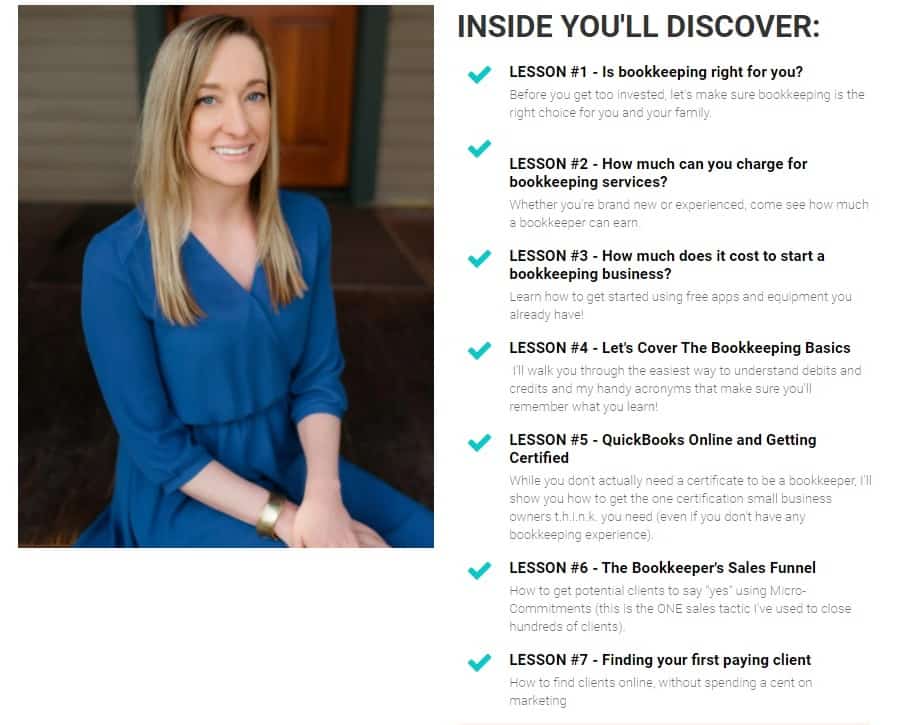 Start a Freelance Writing Business
Like to write? Why not become a freelancer? All you need is a computer and some training to help you get set up to find writing gigs.
Not sure what to write about? Check out this FREE list of 200+ niches (and sub-niches) to choose from to help you decide.
If you're serious about freelance writing and want to sign up for an advanced course that will show you the ropes, then check out 30 Days or Less to Freelance Writing to Success. With 30 Days or Less to Freelance Writing to Success, you will get walked through everything you need to know before starting your business.
You can check out some success stories and the full course curriculum here to see if it's right for you.
Become A Web Designer
Web designers can pretty much work from anywhere. All you need is a good computer, some design software and some training. Udemy has a lot of awesome inexpensive courses to help you with everything you need to become a web designer.
Check out these courses on Becoming a Web Designer. I always encourage people to look for highly-rated courses with lots of student reviews before joining a course on Udemy. I love Udemy because it's so affordable that you can actually take several courses and not break the bank.
Start a Transcription Business
Yup, they are actually real and you can make money from anywhere being a transcriptionist. I was seeing a lot of people write about transcription but for some reason, I always thought it was a scam.
That was until I met Janet Shaughnessy who created TranscribeAnywhere.com. If you want to find out more about Transcription, see how much you can make and just see if you're a good fit, I recommend taking her free course: Transcription Foundations: Free 7-Lesson Mini-Course with Janet Shaughnessy (Creator of Transcribeanywhere.com).
The free course will give you an idea of whether you would like this business and whether you are a good fit.
Once you're ready to dive in, you can enroll in one of Janet's Courses for either General or Legal Transcription.
Become a Freelance Proofreader
Here is another work at home job I thought was a scam until I met Caitlin Pyle the founder of Proofread Anywhere and Work At Home School. She is a professional proofreader turned freelancer and is helping others to become a successful freelancer as well.
If you want to find out more about running a proofreading business than check out this FREE Workshop to learn the Skills You Need to Start Your Freelance Proofreading Hustle.
The Free Workshop goes over everything you need to know about freelancing and what training you may need.
Become a Scopist
What on earth is a Scopist? I first learned about Scoping from the Work At Home School Summit where the founder of Internet Scoping School was a guest.
So basically a Scopist is a person who edits transcripts for court reporters.
Court reporters write or "take down" proceedings using steno writers. They import their steno notes into computer-aided transcription software that translates the steno into English.
Court reporters then hire scopists to help them save time in the editing process so that they can make more money themselves by taking on more jobs instead of doing the editing.
Want to learn more about scoping? Internet Scoping School (ISS) offers a free mini-course to get started. Check out the Free Scoping School Mini-Course and see if scoping is for you.
According to Linda Evenson the founder of ISS, Scopists are in high demand and can make a good salary. She goes over earning potential and more in the free training course I mentioned so go ahead and give it a look.
You may also like:
Professional Organizer Business
Do you love organizing? Why not become a professional organizer! If you think you would be a great professional organizer I recommend finding and following other professional organizers first so you know what you are getting into.
One of my favorite professional organizers is Lisa Woodruff of Organize365. I started following her after reading The Mindset of Organization.
Lisa has a 100 Day Organization Program in which you can join and learn how to organize your own home. Some of her students will become organizers themselves once they complete that program. It's a great way to get to know how other professional organizers think and work.
She also has a free podcast you can listen to just search for her name or "Organize 365 on iTunes or your favorite podcast player. I honestly could listen to her all day, she motivates me to organize my home and stay organized and almost makes me want to be a professional organizer!
Lisa has a certification program called The Sunday Basket® Workshop Organizer Certification Program that you can check out as well. I love the Sunday Basket Concept and it's another business you can start if you rather not organize homes.
Start A Virtual Assistant Business
Not sure what services you can offer as a Virtual Assistant (VA)? Grab Gina Horkey's FREE list of 150 VA Services, you are sure to find services that fit your experience.
Gina also offers a full course on becoming a virtual assistant called 30 Days or Less to Virtual Assistant Success that you can check out. She also runs a course for becoming a Pinterest VA! If you love Pinterest you will want to check that out.
I know in the blogging world we all need VA's, so the demand is high. A lot of bloggers actually become Virtual Assistant's to supplement their income as they build their blog. Keep in mind you definitely don't have to be a blogger to be a VA.
One thing that almost all business owners will need eventually is a website. Check out this free resource on creating a website using Squarespace.
Find anything that interests you? Don't know where to start or need help choosing? I recommend you sign up for the free resources I mentioned and get an overview of the businesses and see if any of them are a good fit. Remember you can always start off as a side hustle while you keep your day job.
Questions? Comments? Leave them below!
This post may contain affiliate links. Read my disclosure policy here