This post may contain affiliate links, which means I'll receive a commission if you purchase through my links, at no extra cost to you. Read my full disclosure for more information.
I have read a lot of personal finance books and this is a list of my favorites, favorites of my friends and other books that have been highly recommended to me by people over the years. Most of which I have read or are on my list of books to read.
I think it is very important to stay educated about money and keep motivated so I wanted to share this list of books about money with my readers.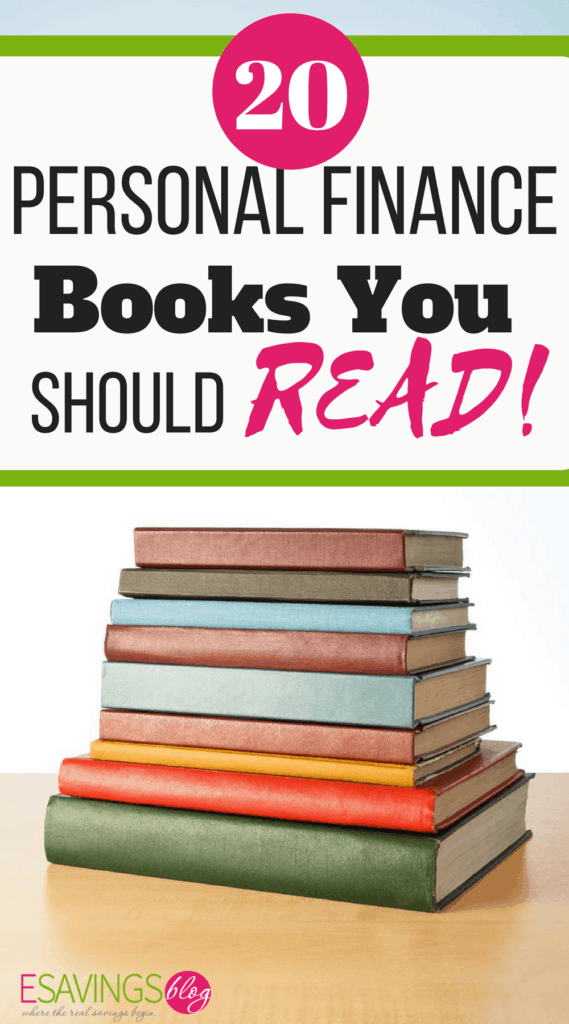 20 Books About Money That Will Change The Way You Think
Author David Bach gives you a totally realistic system, based on timeless principles, with everything you need to know, including phone numbers, websites, and apps, so you can put the secret to becoming an Automatic Millionaire in place from the comfort of your own home.
He includes real-life inspiring examples of families that have become millionaires using this system.
Ruth Soukup knows firsthand how stressful an unorganized life and budget can be. Through personal stories, biblical truth, and practical action plans, she will inspire you to make real and lasting changes to your personal goals, home, and finances.
This powerful resource offers a month of daily challenges for spending not just less, but absolutely zero. Over the course of 31 simple challenges, you'll receive practical and easy to implement ideas for planning your meals, getting your home in order, and becoming more creative–all without spending a dime.
I am in the process of reading this right now and I am a new fan of Rachel Cruze. In Love Your Life, Not Theirs, Rachel Cruze shines a spotlight on the most damaging money habit we have: comparing ourselves to others.
Then she unpacks seven essential money habits for living the life we really want–a life in line with our values, where we can afford the things we want to buy without being buried under debt, stress, and worry.
In Smart Couples Finish Rich, author David Bach provides couples with easy-to-use tools that cover everything from credit card management, to investment advice, to long-term care.
You and your partner will learn how to work together as a team to identify your core values and dreams, creating a financial plan that will allow you to achieve security, provide for your family's future financial needs, and increase your income. Together, you'll learn why couples that plan their finances together, stay together!
In Smart Money Smart Kids, ? financial expert and best-selling author Dave Ramsey and his daughter Rachel Cruze equip parents to teach their children how to win with money.
Starting with the basics like working, spending, saving, and giving, and moving into more challenging issues like avoiding debt for life, paying cash for college, and battling discontentment, Dave and Rachel present a no-nonsense, common-sense approach for changing your family tree.
With The Total Money Makeover: Classic Edition, you'll be able to: Design a sure-fire plan for paying off all debt—meaning cars, houses, everything; Recognize the 10 most dangerous money myths (these will kill you); and Secure a big, fat nest egg for emergencies and retirement!
This one is up next on my reading list! In Retire Inspired, Chris Hogan teaches that retirement isn't an age; it's a financial number an amount you need to live the life in retirement that you've always dreamed of.
With clear investing concepts and strategies, Chris will educate and empower you to make your own investing decisions, set reasonable expectations for your spouse and family, and build a dream team of experts to get you there.
This book was recently updated in 2018 and I absolutely love it! It introduced me to what real financial independence is.
In Your Money or Your Life, author Vicki Robin shows you how to gain control of your money and finally begin to make a life, rather than just make a living.
With this book, you'll learn how to get out of debt and develop savings, save money through mindfulness and good habits, not strict budgeting, declutter your life and live well for less, invest your savings and begin creating wealth, save the planet while saving money and much more!
Need I say more?
The bestselling The Millionaire Next Door identifies seven common traits that show up again and again among those who have accumulated wealth. Most of the truly wealthy in this country don't live in Beverly Hills or on Park Avenue-they live next door. This new edition, the first since 1998, includes a new foreword for the twenty-first century by Dr. Thomas J. Stanley.
MORE MONEY SAVING TIPS FOR YOU:
Rich Dad Poor Dad, the #1 Personal Finance book of all time, tells the story of Robert Kiyosaki and his two dads—his real father and the father of his best friend, his rich dad—and the ways in which both men shaped his thoughts about money and investing.
At last, for a generation that's materially ambitious yet financially clueless comes I Will Teach You To Be Rich, Ramit Sethi's 6-week personal finance program for 20-to-35-year-olds.
A completely practical approach delivered with a nonjudgmental style that makes readers want to do what Sethi says, it is based around the four pillars of personal finance- banking, saving, budgeting, and investing-and the wealth-building ideas of personal entrepreneurship.
This book is another favorite by author David Bach. I read it back when it came out in 2009 and recently purchased the audio version. This book will definitely change the way you think about how you spend your money!
I highly recommend this book and even though its a bit outdated it has loads of relevant information and you will not be disappointed! I am hoping David will do an updated version soon.
If you're looking for practical information to answer all your "How?" "What?" and "Why?" questions about money, this book is for you. Dave Ramsey's Complete Guide to Money covers the A to Z of Dave's money teaching, including how to budget, save, dump debt, and invest. You'll also learn all about insurance, mortgage options, marketing, bargain hunting and the most important element of all―giving.
I have this book by T. Harv Eker on my list to read! Secrets of the Millionaire Mind is two books in one. Part I explains how your money blueprint works. Through Eker's rare combination of street smarts, humor, and heart, you will learn how your childhood influences have shaped your financial destiny. You will also learn how to identify your own money blueprint and "revise" it to not only create success but, more important, to keep and continually grow it.
In Part II you will be introduced to seventeen "Wealth Files," which describe exactly how rich people think and act differently than most poor and middle-class people. Each Wealth File includes action steps for you to practice in the real world in order to dramatically increase your income and accumulate wealth.
This is an oldy but goody. Beloved by millions, George S. Clason's timeless classic reveals the financial principals that hold the key to personal wealth. THE SUCCESS SECRETS OF THE ANCIENTS—AN ASSURED ROAD TO HAPPINESS AND PROSPERITY.
In this groundbreaking book, Suze Orman, the nation's go-to expert on all things financial, investigates the complicated, dysfunctional relationship women have with money.
With her signature mix of insight, compassion, and soul-deep recognition, Suze Orman equips women with the financial knowledge and emotional awareness to overcome the blocks that have kept them from acting in the best interest of their money–and of themselves. At the heart of the book is The Save Yourself Plan: a streamlined five-month program that delivers genuine long-term financial security.
This book was initially developed by the author Cary Siegel to pass on to his five children as they entered adulthood. The book includes eight important lessons focusing on 99 principles that will quickly and memorably enhance any individual's money management acumen. Unlike many of the personal money management books out there, this book is a quick, easily digested read that focuses more on the qualitative side than the quantitative side of personal money management. The principles are not from a textbook. Rather, they are practical principles learned by the author as he navigated through his financial life.
Based on extensive research and one-on-one interviews with more than 50 of the most legendary financial experts in the world—from Carl Icahn and Warren Buffett to Ray Dalio and Steve Forbes—Tony Robbins has created a simple 7-step blueprint that anyone can use for financial freedom.
This is another good one by author Thomas Stanley. A defensive strategy for tough times, Stop Acting Rich shows readers how to live a rich, happy life through accumulating more wealth and using it to achieve the type of financial freedom that will create true happiness and fulfillment.
Have you read any of these books? What books about money have changed your life? Leave a comment below!
This post may contain affiliate links. Read my disclosure policy here