This post may contain affiliate links, which means I'll receive a commission if you purchase through my links, at no extra cost to you. Read my full disclosure for more information.
This is my honest BeFrugal review. This post is NOT sponsored by BeFrugal.
What is BeFrugal?
BeFrugal is a cashback website, similar to Rakuten, that offers cashback for online purchases. Currently, they have over 5,000 stores to choose from, including most of the major retailers like Target, Walmart, Amazon and more.

BeFrugal, like many cashback websites, partners up with major retailers and earns affiliate commissions and bonuses for referring customers to these retailers' websites.
BeFrugal's claim to fame is that they share 100% of those commissions from their affiliate partners, with its members (you).
Because of this, they're able to give you some of the best cashback deals around and even offer a 125% cashback guarantee if you find a better deal on another cashback site.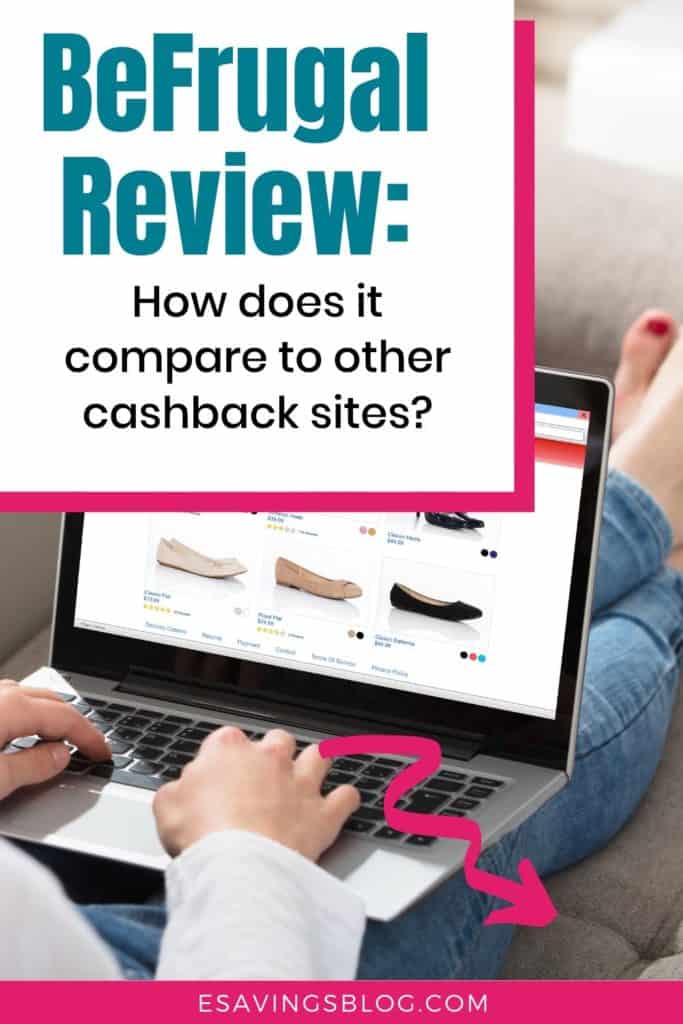 How Does BeFrugal Work?
Once you're a member (its free and you'll get a $10 bonus for signing up), you shop as you normally would, but instead of navigating directly to a retailer's website, you would visit Befrugal first.
For example, If you want to purchase something from Macy's, you would log onto Befrugal's website first (or their app), then click to the Macy's site to make your purchase.
I go more into how you can do this easily in the section about how to get signed up and started.
How Does BeFrugal Pay?
They pay via direct deposit, PayPal, or check (minimum balance of $25) OR you can choose to get payment via eGift Card with a minimum balance of just $5.
If you choose an eGift card you also get a small bonus on top. The bonus amount will be displayed under each gift card option.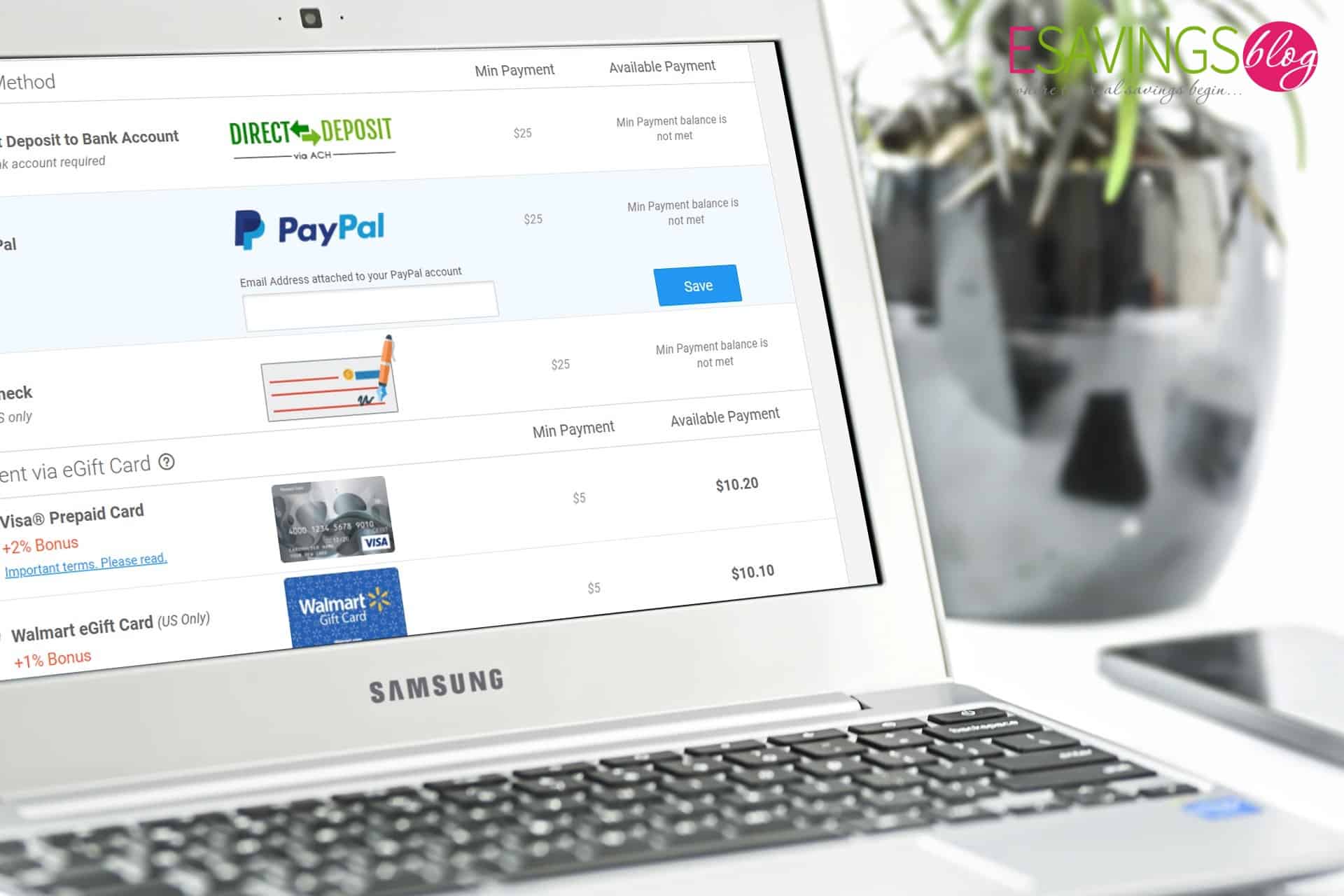 My Honest BeFrugal Review & Experience
Now is time for my honest review.
Would I recommend BeFrugal? Yes. I've been a member since 2012 and I've never had an issue getting cashback or getting paid by them.
As you can see from the screen below I've earned and was paid out over $101 so far. I also have $40 pending (that's a screenshot from my personal account).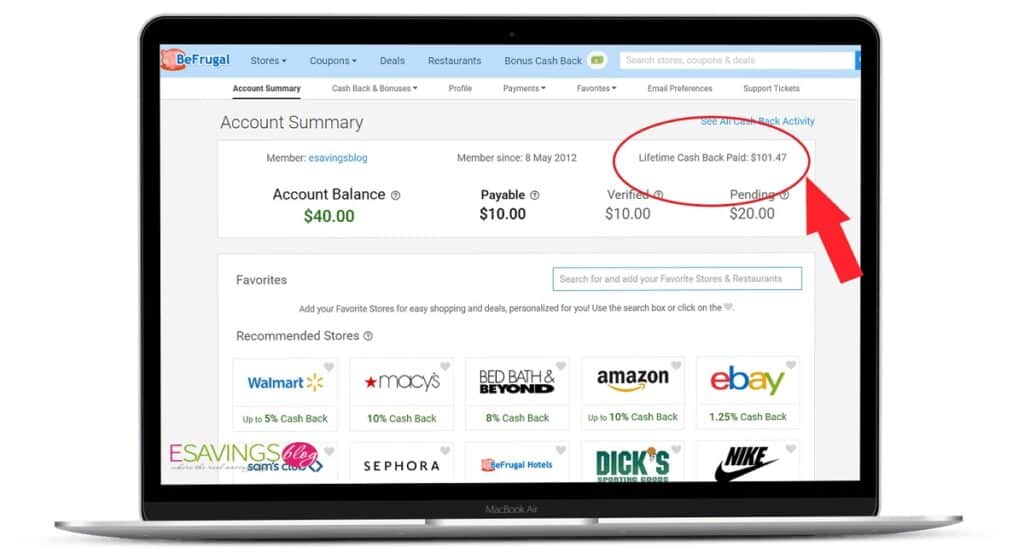 Keep in mind, I use other cashback websites as well. So if you're thinking $101 isn't a lot, it's because I haven't exclusively been using BeFrugal since 2012.
I'll go over other cashback alternatives to BeFrugal later and why I use more than one. So if you're interested in why I do this, keep reading.
Honestly, there is no downside. Even if you sign up to get the $10 bonus and only make a few purchases through them, you've made out.
How to Get Started With BeFrugal And Get a $10 Bonus
Now that I've shared my experience and you know BeFrugal is legit, you probably want to know how to get started.
Getting started is super easy and free. PLUS they give you a $10 Bonus just for signing up! It takes just a few minutes.
Sign up for BeFrugal here to get your $10 Bonus.
Confirm your email (you should get a confirmation email after signing up).
You're done! Start shopping!
It's really that easy. All you have to do is to remember to start your online shopping at their site first.
The easiest way to do this is to either use their mobile app when shopping on your phone or to download the BeFrugal Shopping Button.
The Befrugal Button is a Chrome browser extension that will sit in your Chrome browser and automatically apply coupon codes and cashback to your online purchases at participating stores.
Their mobile app can be downloaded right to your phone from the App Store or Google Play.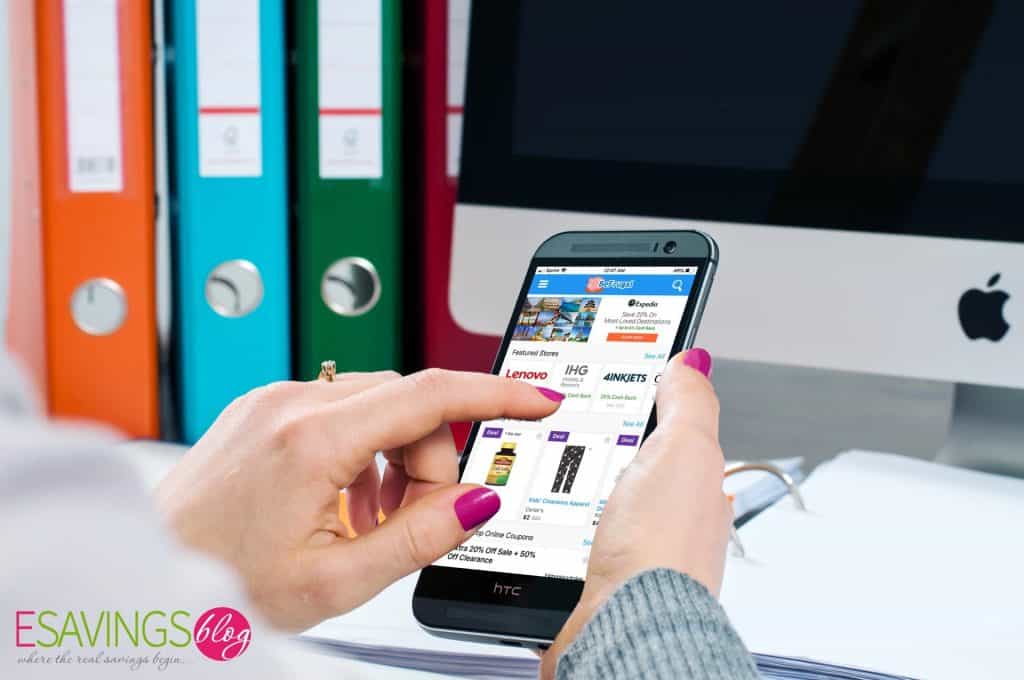 How Does BeFrugal Compare to Other Cashback Websites?
Like I mentioned above, I use a combination of cashback websites and apps for various reasons. They all offer something different and some have stores that others don't. You can check out my list of the Top 10 Cashback Websites.
For this blog post, I'm going to compare BeFrugal with my two other favorite cashback sites, TopCashBack and Rakuten (formerly Ebates).
BeFrugal vs Rakuten (Formerly Ebates) vs TopCashBack
The main differences between these three cashback websites are the number of stores available, the cashback amounts, and the payout options.
I find that BeFrugal and TopCashBack tend to have higher cashback amounts on certain stores. These two sites say they are the highest and they seem to be.
Rakuten while not always the highest, often runs double cashback days and other promotions. They also offer very generous referral bonuses. They give anywhere between $5-$25 when you refer friends depending on what promotion they are running.
BeFrugal and Rakuten offer a $10 signup bonus all the time. While TopCashBack runs different signup bonuses throughout the year. If you want to signup for TopCashBack leave a comment on this blog post and I'll look for the most current promotion for you.
I created this comparison chart to help you visually see the main differences.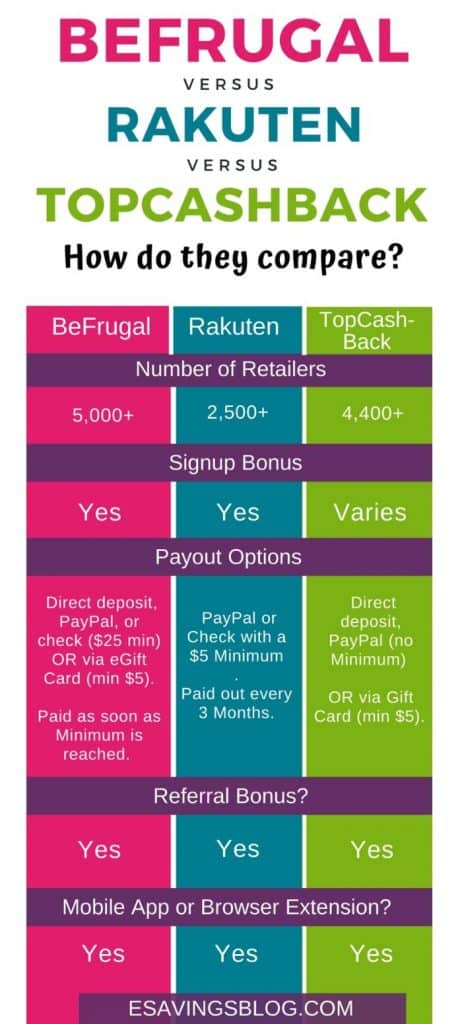 As you can see, they all have their own advantages and disadvantages. I recommend signing up for all three. Take advantage of the bonus signups, and satisfy any requirements to cash it out.
Then you can use your favorite long term or switch between the three depending on where you're shopping.
One tip to keep them all organized is to create a shortcut on your browser bar or taskbar on your computer.
I would also suggest only installing one browser extension if you want to use one, but not all three. You can, however, install all three of their apps on your phone and do quick searches for cashback that way.
What do you think? Are you going to sign up for BeFrugal? How about any of the others? Leave a comment below!
This post may contain affiliate links. Read my disclosure policy here