This post may contain affiliate links, which means I'll receive a commission if you purchase through my links, at no extra cost to you. Read my full disclosure for more information.
Get More Cash Back with Gambeal
I love saving money but I don't like to spend a lot of time trying to save. This is one of the reasons I love cash back apps. This is why when I first learned of the Gambeal App, I was excited to give it a try!
With the Gambeal app, you're just a few seconds from earning cash at the best restaurants, takeout spots and even places like gas stations and grocery stores!
To start getting cashback you first need to download the Gambeal App. Once downloaded just open it and register with your name and email address.
When you first open the app you will see different categories to earn cashback with. Different categories have different amounts of cashback.
Even though some are as low as .05 they can add up quickly because they are very general categories and not brand or chain specific in most cases. I really liked that about Gambeal versus other coupon and rebate apps.
After choosing a category all you have to do is read the amount needed to earn the cashback and then submit your receipt by simply taking a quick photo! Then give your experience a star rating and quick feedback and you're done!
It literally takes only seconds. Just make sure you submit your receipts within 24 hours of purchase to get the credit. Shouldn't be too hard since it's so easy to do. I usually do it right after I leave the restaurant so I don't forget.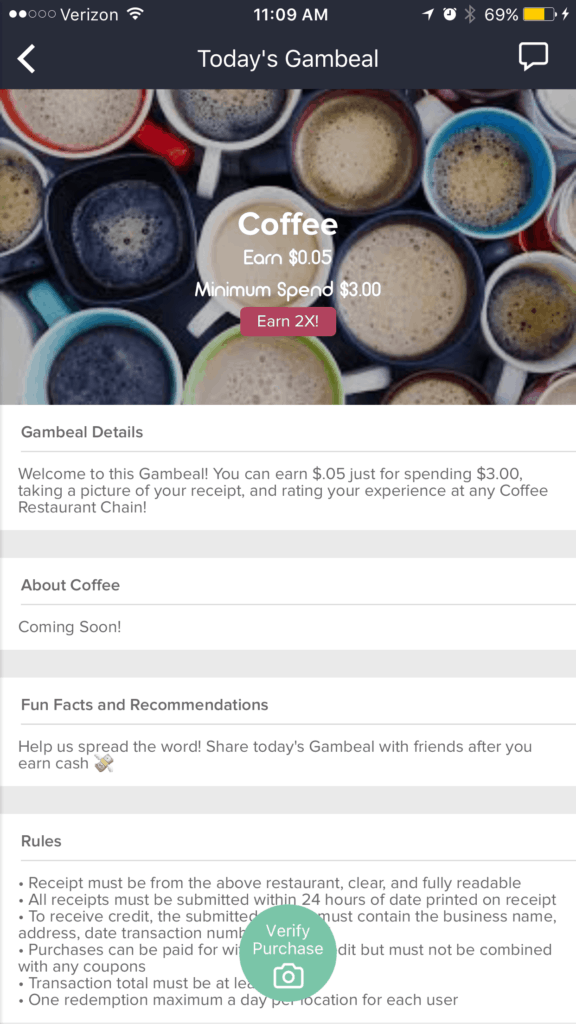 So far in just a few days, I have already collected $5.75, I bought more wine since taking the screenshot below :). The minimum to cashout is just $20 which I shouldn't take too long to reach since I usually get coffee daily and in any given week I usually purchase some sort of takeout and of course, I am always stocking up on wine.
Once you reach $20 you can cash out directly to Paypal so no need to connect any bank accounts or wait for any checks.
If this all sounds good to you then go on and download the Gambeal App today. Already have the app, let me know your thoughts in the comments. Questions? Ask in the comments.
This post may contain affiliate links. Read my disclosure policy here